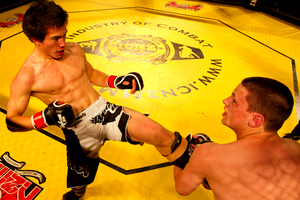 The way things are going, you wouldn't bet against MMA being the dominant global fight sport in 50 years' time. Hell, it might be the only global combat sport by then. Designed to find the most dominant fighter on the planet - whatever their skill set - MMA has the potential to render other combat sports irrelevant.
Boxing's predominance is certainly under threat. Professional boxing has been ailing for a long time. Its rich history and rare kind of sporting poetry won't be enough to keep MMA at bay.
Genuinely memorable boxing bouts are few and far between these days, buried under a mountain of dross.
The biggest boxing occasions still capture the imagination - as Shane Cameron's title fight against Danny Green will - but it is a rare contest that doesn't require interest levels to be maintained via a punch-drunk playbook of pre-fight publicity tricks.
Thanks to the skills of David Tua and Cameron there has been a revival in New Zealand, but even those successes owe much to the canny efforts of promoters such as David Higgins and Dean Lonergan.
With his Fight for Life cards, Lonergan has cleverly tapped into a mainstream sporting audience. But having set up a fight between two reality TV floozies in his last show, he has stretched the concept of celebrity fighting as entertainment to the bounds of decency.
His promotions prove the appetite for combat sports remains vast, but the lengths he has gone to to make them successful reveal a sport laid waste by shysters and pimps.
MMA, via the increasingly all-powerful UFC, is already stepping into the void. The Herald's inquiries this week discovered a sport shaking off the negativity of a bloody early imprint on the public consciousness, and spreading inexorably across the globe.
Whereas boxing has long followed a model that pursues big paydays for prime prize fighters at all costs, MMA, under the UFC banner, puts a premium on entertaining fans. And where boxing has become bedevilled by the multiple fly-by-night organisations masquerading as bodies worthy of handing out world titles, the UFC has consolidated its standing as MMA's premier body by consuming its major rivals one by one.
Monopolies are seldom a good thing long term, but the UFC's dominance sure beats trying to figure out the difference between the WBO, WBA, WBC and WWF.
The global rise of the UFC is reflected in the surge in the popularity of MMA in this country. The local scene is humming but, in the absence of legislation, relies on self-regulation.
The Boxing & Wrestling Act that oversees fighting sports in this country explicitly excludes martial arts. That's an antiquated anomaly. Mixed martial arts fighting is the combat sport of choice of a new generation. It's not coming, it's here.