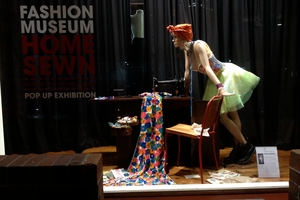 At first glance, Home Sewn exhibition volunteer Heather Clarke seemed to be wearing a white jacket over a scribble-flower print cotton dress. But look closer and ... is the jacket zipped into the dress? How else to explain a flat seam down the front attaching white to scribble flowers?
Clarke good-naturedly showed me the secret: she'd sewn a panel of the dress fabric down the centre of the jacket, so it matched, and also to give the jacket a bit of interest when worn with other clothes. The two pieces weren't attached at all. Very clever way to zhoosh up a jacket.
It isn't only the stationary models who are illustrating the message of the New Zealand Fashion Museum's pop-up exhibition in Britomart: home sewers follow their own styles with flair. These days, people make their own clothes as a statement of identity - because they have "no desire to look readymade", as the museum's director, Doris de Pont, puts it - rather than because it's cheaper. When it comes to sewing, what was once a necessity is now a luxury.
Among the 42 garments on display is a strapless 1950s ball dress of daring cocktail length, with asymmetric decolletage by Naomi "Byllee" McDonald, mother of choreographer Mary-Jane O'Reilly. It shares a podium with a 2011 wedding-guest dress made by 94-year-old Elvera L'Estrange for her daughter, and a hula-girl print 1980 sunfrock, shown backwards as worn by its seamstress (and Fashion Museum trustee) Dianne Ludwig. The exhibition eschews grand explanations; it is like rummaging through an attic dress-up box, while your grandmother chats about who sewed what and why.
The earliest gown on display - an early 1930s bias cut dinner dress - is very of-its-era, but the long floatiness of the crepe de chine and the small floral print means it could be mistaken for a 1990s dress built to contrast with a pair of Doc Martens. (Another exhibition Fashion Treasures, $12 until October 7 at Highwic House in Epsom, curated by Angela Lassig, starts where Home Sewn leaves off, showing garments from the 1920s back to the early 1800s.)
If you've wondered while reading Little Women or Anne of Green Gables what taffeta, satin brocade and silk georgette are, here's your chance to find out. And the prints - particularly in each other's company - are glorious. Vibrant blue, murky turquoise and luminescent purple roses next door to pleats of green rockgarden photoprints.
Only two of the garments are man-made, including one of the show's most intriguing pieces (along with a deconstruction of a magnificent vintage Japanese bridal kimono by Grace Khong Samuelson): it's a grey 2012 dress by Elam student Steven Park, made from a duvet cover screenprinted on the inside, so the dye only just seeps through. The idea is to "encourage us to question what we are seeing", rather than judging "on the basis of outward appearances" - an ironic statement for a fashion garment.
Entry by koha until September 26; DIY fashion parade September 23. www.fashionmuseum.org.nz