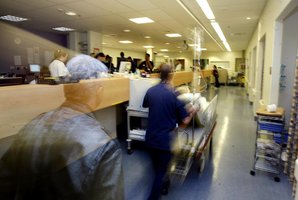 It is becoming a concern that healthcare seems to be given "leave" every time economic sustainability is discussed. The Minister of Health has announced that while a host of other countries in the OECD were seriously restraining health spending, New Zealand was increasing it.
New Zealand now has the fifth highest spend on health in the OECD as a proportion of its GDP. That sounds out of proportion to me. This largesse should be a cause for concern.
Countries such as the United Kingdom, Germany and Australia have lifted their heads out of the sand and taken a good hard look at what continued unsustainable health spending will mean, whereas New Zealand seems happy to continue digging itself a deeper hole.
The uncomfortable, seemingly unmentionable, reality is our current healthcare spending pathway has the potential to seriously impact on New Zealand's future economic prosperity.
Between 1950 and 2009, New Zealand's health spending per person rose at a rate three times faster than the growth in our GDP per person.
The number of elective surgeries is at a record level (in the public and private sectors).
New Zealand's population is ageing - requiring more care and more surgery. Around a third of all healthcare spending is for people aged 65 and over. By 2036, Statistics New Zealand estimates around 23 per cent of New Zealand's population will be aged over 65, up from 14 per cent today.
The range of treatments and technology is expanding, and so are expectations. Medical costs are also rising much faster than general inflation.
We're spending an ever increasing portion of our national income on health, but, as many doctors will tell you, this is not keeping pace with demand or need.
New Zealand is fortunate to have a world-class public healthcare system. But to continue providing acute and emergency services of this standard, and to provide for our most vulnerable, we will need to significantly change how we pay for and provide non-urgent healthcare in this country - and change who pays for it.
This will involve challenging long-held expectations of what the public purse can be reasonably expected to deliver, and of what we as taxpayers are "entitled" to. Simply pouring more taxpayer dollars into the pot is not the solution.
Each New Zealander needs to be prepared for the fact they will need to take more personal responsibility for the costs of their non-urgent healthcare - and this can be expensive.
A cardiac bypass in private will set you back $38,000-$60,000, a hip replacement $18,000-$28,000.
Already around half of all elective surgical procedures undertaken in New Zealand are self-funded either through health insurance or some other out of pocket contribution. This will inevitably increase.
This notion won't be a vote winner. But we've travelled this road with retirement savings. Our parents once thought the state would provide everything in retirement. The working generation know this is no longer the case, and are being encouraged to save.
The same is inevitably going to happen for health. If not, future taxpayers and the next generation are in for a big shock.
We need to start getting smarter about how each healthcare dollar is spent. Patients need transparency about quality, clinical outcomes and price so that the best options are chosen.
We need to look at new models of care and new ways to save, such as the successful Pharmac-type model for purchasing medical items - not just for drugs.
We need to work together. We're a small country, there's simply no spare cash for political ideology or parochialism. The Government is rightly proud of our health system, but change must come. We need to take a long-term view and make informed choices, otherwise frustrated future Kiwis will be left holding an active grenade.
Ian McPherson is chief executive of the Southern Cross Healthcare Group.