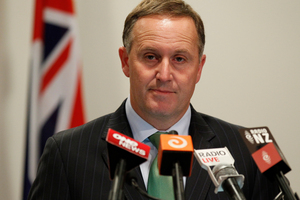 It's an ill-wind that blows nobody any good - and, according to the US State Department, it was also an ill wind that was responsible for obliterating parts of Prime Minister John Key's comments in a news conference with Secretary of State Hillary Clinton at the Pacific Islands Forum.
There is some suspicion that blaming the wind was simply the diplomatic equivalent of blaming the dog for a house guest's fart.
There is evidence to back this up. For a start, there was no wind on the day in question. The weather was humid and the media - including yours truly - waiting for the news conference could only dream of a wind to cool things down or generate a bit of their own with the use of a fan.
Other recordings of the news conference were crystal clear, so if there was a wind it was a highly localised zephyr that gusted and sighed its way only around the recorder the State Department was using.
It also had selective timing and appeared to blow only when Key was talking. Clinton spoke for more than three-quarters of that 7 minute 19 second news conference yet other parts of the transcript were word-perfect.
Only one word by Clinton was deemed "inaudible" by the transcribers, whereas Key racked up 15 inaudible segments - and that did not include the misheard parts of his speech.
The worst of those was Key's apparent enthusiasm for following the United States into future wars - which was mis-transcribed but not necessarily inaccurate, although it is not good manners to say it in such blunt fashion.
Nonetheless, blaming the wind was a noble effort by the State Department to save face for Key, who already faces some mockery for his diction, even from New Zealanders.
Key could learn something from the State Department's efforts at finding a suitable excuse. In fact, it will probably do him no end of good to be on the receiving end of a diplomatic gaffe for once. In that regard, the scoreboard is currently Key 3, Rest of World 1.
There was his implication Hungarians were softer than custard squares and rarely patrolled at night in Afghanistan, an assertion the Hungarian Defence Minister rejected.
Before that came his fluff using "President Clinton" to refer to Hillary Clinton in 2010 - although US President Barack Obama got one back when he called Key "Prime Minister Keys".
The most recent was his reference to China having its tentacles spread around the world, and the world being powerless to stop it.
There is some relatively benign octopus imagery in the modern age, one example being Paul the octopus and his uncanny ability to pick the winners of the 2010 soccer World Cup. But Paul died some months after that.
Key was either oblivious to or reckless of the more common use of tentacles as a metaphor in propaganda posters on both sides of the two world wars. There were United States army recruitment posters featuring a Kaiser octopus, anti-Semitic depictions of Winston Churchill with his tentacles wrapped around a globe, and anti-Japan posters featuring rising sun imagery with sinister yellow tentacles sweeping out.
In terms of sinister overtones, the tentacles comparison was only marginally more subtle than the propaganda poster featuring Hitler and his henchmen as the horsemen of the apocalypse.
Key pleaded ignorance, claiming he was simply saying that China had a presence in many regions and he could see nothing offensive in it.
The usually sensitive Chinese appeared to believe him. China's Vice-Foreign Minister Cui Tiankai had read the remarks and was clearly more attuned to the undertones of the imagery than Key.
However, he said when he met Key in person after the comment that the Prime Minister had been "very friendly", a statement which only prompted some speculation as to whether Key had as many faces as an octopus had tentacles.
Key compounded his Sino-US sins on the last day of the Pacific forum. Clinton, who was in the Cook Islands on her way to China, had gone out of her way to pretend there was no wariness of China, and that China and the United States were happily swirling around in a Pacific cotillion, just waiting for their turn to join up as partners.
Key was not so reticent and appeared quite happy to answer questions on behalf of the United States, explaining that the wariness was because Chinese aid in other regions, such as Africa, had come with conditions attached, such as preferential access to minerals. Caution was needed, he added.
It was unfortunate timing, coming so close to yesterday's celebrations at Parliament to mark 40 years of diplomatic relations between China and New Zealand.
Key chose more flattering terminology at that function and those listening also observed he took care to enunciate clearly. So here's hoping he withholds the cephalopod metaphors when he travels today to the Apec summit in Russia, which provided the bad guys in the Soviet-era James Bond thriller Octopussy. It would be a bit hard to blame the wind for sparking an Octopussy riot.
* Claire Trevett is the deputy political editor of the Herald.