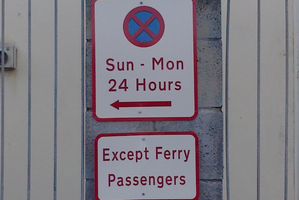 A reader wonders if anyone can translate this sign at Stanley Bay.
Bring your togs
Bus with water feature: Cat writes: "As a public transport user you learn not to set your expectations too high but on Monday morning I found I actually managed to get wetter on the bus than off. On my Mangere-bound bus all of the windows and walls were constantly streaming with leaks and condensation (my sleeve and leg were soaked to the skin), the floor was awash, the back door had huge gaps and didn't close properly, and there was no heating. And it was pretty filthy. I live centrally and this experience is a big contrast to the Link and buses on routes that serve a higher socio-economic area ... has anyone else noticed this?"
Just add water
A reader writes: "Driving through Henderson the other day I noticed a group of high school boys sitting on a fence, having just visited the nearby dairy. They each had a sachet of Raro and were eating the powdered sugar directly from the packet.
How strange. Must be awfully bad for the teeth."
Safety first
A California appeals court reinstated police officer Enrique Chavez's lawsuit against the Austrian gun manufacturer Glock for its "unsafe" design. Chavez is now paralysed from the waist down because his 3-year-old son got hold of the gun and accidentally fired it, hitting his dad. Chavez, in violation of police policies, had left the gun loaded underneath the front seat of his car, and his son, whom Chavez had not belted into a child seat, was free to explore while Dad drove. The gun is regarded as of safe design by dozens, if not hundreds, of police departments, and the Los Angeles Police Department disciplined Chavez over the incident. (News of the Weird)
The old lost ticket excuse
Procrastination #1: "I left a car at the airport carpark for six months, afraid to pick it up because of the huge tab accumulated. I eventually retrieved it and got out by saying I lost my ticket, etc. I had to change a tyre and put a new battery in it to get it out, as well."