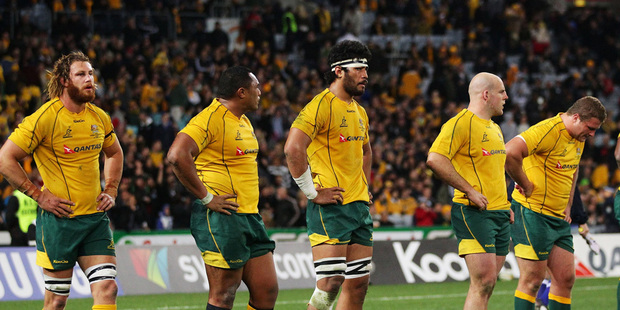 Wallabies players look dejected waiting for the final penalty kick during The Rugby Championship Bledisloe Cup match between Australia and New Zealand at ANZ Stadium. Photo / Getty Images.
Clammed Up, hiding in their shells and devoid of any attacking ideas, the Wallabies need to be set free this week at Eden Park and reconnect with their Australian roots.
Ironically, the best way, the only way in fact, they can reach Auckland with any hope of winning is to inject a massive dose of New Zealand - and one Quade Cooper.
They can't seriously let Berrick Barnes go round again and sacrifice their instinctive flair. Barnes is a strait jacket - picked with the goal of steering the Wallabies away from humiliation rather than to seriously bring victory within reach.
His real purpose became evident midway through the first half in Sydney when, for the first time, quick ball was recycled by the Wallaby pack and Barnes kicked it. A nice 40 metre dink into touch - earning warm applause, the approval of his coach and the wrath of the men outside him.
Rugby is not rugby when the outside backs become decorative pieces: high street shoppers who stare in the windows, knowing that they don't have the credit card.
Pick Barnes and limit the damage - pick Cooper and at least open the possibility of another outcome.
Surely there is nothing less Australian than damage limitation? Scrummaging might not be in their DNA, but inventive, creative back play is. Having a go - that is quintessentially Australian and it's rare indeed for a Wallaby side to die wondering.
If Barnes is named at No 10 this week the Wallabies might as well talk openly and admit they will be happy with a 12-point defeat: they might as well flag it, celebrate it and say that respectability is their goal these days.
But bring in Cooper and the landscape changes. He can find holes, bring others into the game and at least prise cracks in the All Black defence.
He can provide the mental lift, the spark that comes with exuberance and a flash
The question, though, is whether it would be rise to expose Cooper to an unforgiving and tormenting Eden Park crowd. New Zealand's favourite villain cracked the last time he was in Auckland. He was booed, he was hissed and he disintegrated.
He'd be a Christian in the Lion's den at Eden Park - the stakes intolerably high. The Wallabies haven't held the Bledisloe for 10 years; they have to win in Auckland; they have to at least play with conviction and passion, generate hope for the rest of the tournament and halt the growing belief their seat at rugby's top table will soon be offered to a more worthy nation.
That pressure could inhibit Cooper. One nation willing him to succeed, another wishing him to fail. He knows that the power of the latter can be the greater. He knows that his home nation broke him last year - that he couldn't cope with being public enemy number one.
He could be broken again - properly broken to the extent his confidence is destroyed for the rest of the season - maybe even longer.
It's high risk but it is also potentially high reward and Australia, if nothing else, will welcome the fact the Wallabies are at least prepared to embrace being Australian.