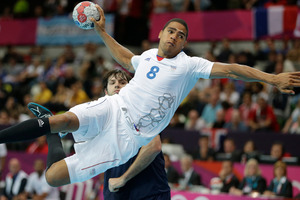 Daniel Narcisse of France scores during the men's handball preliminary match against Argentina. Photo / Matthias Schrader
Can New Zealanders please start giving handball a crack?
It seems a sport suited to Kiwi hand-eye co-ordination where 12 Carlos Spencers produce sleight of hand to try to deceive two Mark Pastons in goal.
Handball presents the perfect opportunity to add something to the New Zealand Olympic Games repertoire. It is rugby with forward passes, netball without the hoop and fielding-only cricket. Football and basketball skills are involved too. Players need aggression to jostle for position to set up team-mates for a shot at goal. Defensive lines are bent before a free player is slipped a pass to have a shot.
Players need to be rugged enough to take an elbow to the chops to get a goal. Goalies need reflexes of the hockey variety, flinging limbs everywhere but without the need for protection because the ball is bigger and softer. Most throws resemble a cricket fielder at third man throwing 60m from the boundary, the only difference being they're throwing 6m to beat the goalie.
There are subtleties. Sometimes players feint for a bullet throw, wait for the keeper's reaction and then lob it over his or her head. The ball moves so fast goalies must be able to take a sharp slip catch.
At the Olympics, it never ceases to amaze how much support handball gleans from packed crowds. It is European-dominant but genuinely international, with teams from Iceland to Tunisia and Argentina to South Korea involved in London.
It has more global appeal than Kiwi favourites like netball and touch rugby, yet has many of the same skills.
It could be worth an investment preparing a team for the 2016 or 2020 Olympics. Perhaps an Olympic Idol contest could be commissioned like that which trialled bobsled athletes for the 2010 Winter Olympics or the women's cycling team pursuit in BikeNZ's Power to the Podium programme.
While the bobsledders never quite made it, auditions were held and talent unveiled. The women's team pursuiters finished fifth but a programme has been established.
As an Olympic sport, handball was first trialled at the 1936 Olympics before being permanently added to the men's programme in 1972 and the women's in 1976. It is governed by the International Handball Federation of which New Zealand is a subsidiary delegation.
Handball involves two teams of seven players each, including a goalkeeper. They pass a leather ball while trying to throw it into the goal over two 30-minute halves.
The game allows body contact but only when the defensive player is completely in front of the offensive player. Any contact from the side or behind is considered dangerous and is met with penalties. It is not uncommon for both teams to score more than 30 goals, so there's plenty of action.