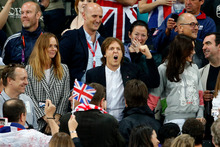 Once upon a time way back in the 80s and 90s, the Hippodrome on one corner of Leicester Square was the only place to be seen in London.
More than 20 years down the track there's another "drome" in town and if anything, it's even hipper than the former centre of the nightclubbing universe.
The Velodrome became the place to be seen this over the past five days. It's tempting to say cycling has become the new rock'n'roll - a beaming Paul McCartney turned up with latest wife Nancy Shevell and daughter Stella - but it's unlikely you'd ever see Princess Anne wig out to Whitesnake the way she did with Sir Chris Hoy.
The velodrome has been a magnet for the royals. The Queen has been, as has the Duke and Duchess of Cambridge, Prince Harry, Prince Edward and his wife Sophie, Countess of Wessex. Sarah Ferguson was in da house yesterday with her daughters Princesses Eugenie and Beatrice, along with Princess Anne.
David Cameron took time out from his office overlooking the Horse Guards Parade, the venue for the beach volleyball, to visit the 'Drome.
You can't blame them, it's been going orf. Like the time Tour de France winner and time trial gold medallist Bradley Wiggins turned up, mod-cool in a buttoned-up polo shirt and striped cardy, waving sheepishly to the crowd as they chanted, "Wig-go, Wig-go".
Like yesterday, when Sir Chris raised the roof, shaped just like a Pringles potato chip, by winning the keirin, the final race of the track cycling programme.
Our own Simon van Velthooven was there with him, racing down the home straight in a desperate and successful attempt to win a medal.
"To see him standing to the right of me on the podium was quite humbling," van Velthooven gushed. "Racing as a knight, as a crowd favourite and with the whole nation on the shoulders is a hard thing to do."
He even casually slipped the F-bomb into conversation, but that's okay, entering the 'Drome can have that effect on you.
Britain has become a cycling nation and the febrile atmosphere of the past six days on the track and during the road race and time trial before that has demonstrated this.
But proof positive that cycling is zeitgeist came from the BBC.
It might no longer be the staid deliverer of bad news and politics, but it was unusual for breakfast presenter Hazel Irvine to sign off yesterday with a cheery, "Get on yer bike."
By Dylan Cleaver

Email

Dylan