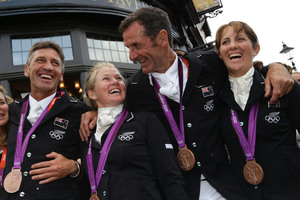 Andrew Nicholson, Jonelle Richards, Mark Todd and Caroline Powell after winning a bronze medal. Photo / Brett Phibbs
Not every Kiwi who wants to be in London for the Olympics can be here, and that's one of the reasons I was given a plane ticket, a hotel room, and a press pass. I'm here to sponge up as much of the Games as I can, and share it all with everyone at home.
With New Zealand's athletes really firing up over the last few days, I've been busy at the Olympic venues. When Mark Todd and the equestrian eventers won their bronze medal, I live-tweeted the day's competition from the stands at Greenwich Park. When New Zealanders won a pile of gold and bronze medals, I was at Eton Dorney, gadgets in hand.
What a lot of Kiwis on Twitter do when there's a broadcast of significant interest is watch the telly with their gadget or computer running so they can discuss what they're seeing with their friends.
What I've been trying to do is add another dimension to that experience. A TV broadcast will show you what happens at a venue; my aim is to give Kiwis updates and convey an idea of what it actually feels like to be there.
Filling a gap where TV coverage drops off is one thing, but at no point did I expect to become faster than a live broadcast.
That's what happened during the Black Sticks women's pool match against the United States.
From the stands, I commented on the big plays and the small details, working to keep on top of the action as the two teams tried and failed to break a 2-2 deadlock.
Finally, a late goal pushed New Zealand out in front. I duly tweeted the updated score, and watched for reactions from the readers at home.
The reaction this time was "spoiler!"
Sky's live broadcast was actually five minutes delayed. That's an eternity in this age.
The delay had been masked by the score, and long as it remained tied, nobody had any reason to believe live wasn't live. I obviously didn't know, and neither did the Black Sticks organisation; they were tweeting as well.
I asked the "tweeps" if it was an issue unique to this match. Apparently so.
That's a relief, but this could be a reminder to TV that live programming should be exactly that.
TWEET OF DAY
I don't see why the last day of the Olympics shouldn't be all the gold medallists playing dodgeball till we have an ultimate champion.
@frankieboyle