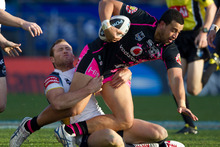 The big hit will always have a place in league.
Last week, Manly props Brent Kite and Jason King lined up Sam Kasiano and gave it to him in a huge hit at the start of the game. The tackle was borderline and really did some damage. It was pretty clear Manly had identified the massive Kasiano as a danger man and were intent on giving it to him.
That sort of thing has always been an integral part of the game - to take it away would be wrong.
Shoulder charges like the one Greg Inglis put on Dean Young are a different story. Inglis made contact with the head and for that he has to pay the price.
He was pretty lucky to get away with just a three-match man ban. Four or five games would have been more appropriate for that tackle. I'd hate to see the shoulder charge taken out of the game but if you try it and you get it wrong the penalty needs to be severe.
Some players are good at the shoulder charge and others aren't. Just look at Ben Matulino - he's perfected the technique.
It's highly effective and he never gets it wrong.
Other players simply don't have that skill. To me, the onus is on the coaches. Not only should they ensure players know the correct technique, they should know which players are capable of using the tackle well and which aren't. The ones who can do it well should be encouraged to keep it up and the ones who can't should be told to stop. No coach wants to lose a key player to a lengthy suspension so, really, the onus is on them.
The way Kite and King got stuck into Kasiano was classic Manly. They are a tough team but they also have plenty of football in them. They've really had it all over the Warriors in recent years and I can't see that changing tomorrow night. I can't see any way the Warriors can win this game in Perth.
Manly have so much experience and the Warriors have so little. Manly are experts at torching the edges and the Warriors have been weak on the fringes all season.
What we saw from the Warriors against Newcastle was what we've seen all season. They do a heap of good stuff but it is all undone by inexperienced players making bad decisions on defence.
With Glenn Stewart and Jamie Lyon rampaging down the right, Brett Stewart chiming in from the back and Steve Matai controlling the left side for Manly, the Warriors' edge players are going to be under all sorts of pressure. It's a huge match for Konrad Hurrell against Matai.
Manly haven't been in great form but that doesn't make then any less dangerous. I just love their brand of footy. You can guarantee they'll know the biggest threat from the Warriors comes from a very good forward pack. So Manly will be out to bash the Warriors' props just like they did Kasiano. They'll be out to deal to them and it will make for a great contest.
But with no Simon Mannering in the line-up, the Warriors lose yet another chunk of experience so I just can't see them getting up.
I don't have any issues with the decision to make Manu Vatuvei the captain. It might just prove a masterstroke. Being named captain is a huge honour for any player and Manu is sure to be inspired. It might just see him take his game to a new level. Manu is hugely respected by his team-mates and that is the key. He's also pretty much the only one from the team's senior leadership group left standing. James Maloney will run the side and do most of the talking.
It will be Manu's job to talk to the refs and question decisions. The only point in doing that is to slow things down so the defence can get set, and anyone can do that. Making Manu captain makes sense but it's hard to see it changing the result.