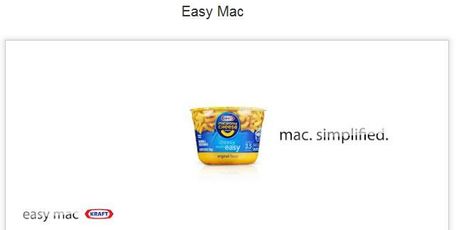 A blog has highlighted Apple's ad design acumen by applying Apple ad principles to other items - it's effectively a tongue-in-cheek appraisal of one of the major aspects of how Apple presents itself in public.
The maker of the Applefied blog is Bryan Evans, originally from Encinitas, California - I asked him some questions.
"I just graduated from Pepperdine University in Malibu, California. I have a degree in advertising and minor in multimedia design.
"I have always been a fan of minimal design. I did study the Swiss school of design which is where a lot of Apple's influence comes from. Also, it is a Media Arts Lab which is a part of TBWA/CHIAT/DAY agency that does all of Apple's advertising.
"Apple's advertising has always been so iconic, which is what I have always found interesting about it. Groundbreaking campaigns like 'Think Different' really changed advertising as we know it."
But that's been the case for decades already. Bryan agrees: " ... lately I feel it has gotten so formulaic and dull. I think it's a fine line between minimal/iconic and too little/dull.
I'm not saying the've crossed that line, but I wanted to start a conversation about it. At the end of the day, they sell a [huge amount] of product."
"Apple's evolution of style has vastly changed since the glory days of Lee Clow. I miss it."
Lee Clow co-created (along with Steve Hayden) Apple Computer's 1984 commercial, considered an advertising masterpiece, which launched the Apple Macintosh. It was shot by film director Ridley Scot.
Clow was also behind Apple's infamous, simple and effective 'Think Different' slogan. Despite being grammatically incorrect (it should be 'think differently') the campaign was considered a game changer in the advertising industry itself. As a Forbes article put it, "Print ads featured no computers and no copy beyond the tagline. They were printed in black and white, leaving the rainbow Apple logo to pop from a corner. The TV spots were equally elegant, with a narrative that transcended not just computers but consumerism at large."
Clow was brought back in by Steve Jobs shortly after his return to Apple in the mid 1990s. The slogan and concept was, by the way, invented by Craig Tanimoto, working for Clow and Rob Siltanen. It was in response to IBM's 'Think IBM' campaign for the ThinkPad laptop; IBM was also the 'enemy Big Blue' dictator of that 1984 Super Bowl ad. Think Different posited that throughout history, true visionaries went against the grain and thought differently - and Apple made tools for these types of people. Think Different would signal Apple was about to come back strongly, despite the parlous state it had fallen into.
The fascinating inside story of the Think Different ad campaign was penned by Siltanen in 2011.
Clow is currently Chairman and Global Director of TBWA\Worldwide, and was formerly its Chief Creative Officer. Siltanen went on to invent an advertising character, Baby Bob, that made history when it got made into a TV series.
But Bryan, with his Applefied blog, is hardly criticising Apple. "I am a huge Apple fan. I have pretty much every product, and you may or may not find me in line on product release days ..."
Mac Planet: So have Apple's campaigns informed your own work?
"I think that Apple's advertising has absolutely informed my own work, it's impossible to ignore how iconic their campaigns are. It's something to study and definitely take into consideration for anyone in the ad biz."
The blog makes some good points - some products work better than others. I think the Rawlings' baseball looks great, for example, whereas the Wonder Bread teamed with word 'Revolutionary' might make you consider how ordinary some of Apple products actually are, compared to rivals, with the advertising associated adds to the charm and the mystique of admittedly first class product design. Especially when the Think Different campaign started a year before the first 'Jelly' iMac appeared, which is what truly put Apple on the return path.
Bryan sits deep in the American world of advertising - he's only 22. "The first one I did was 'french fry'. I grew up with a dad who has worked corporately for McDonald's for over 30 years, so I thought this product would fit perfectly with this style."
Mac Planet: Any reaction from Apple? Others?
"No reaction from Apple yet, but it's gone pretty huge. In the past 24 hours, the blog received over 125,000 hits.
"I have many more planned, yes... You'll just have to stay tuned!"
At last account, Applefied makes me think about how important space is to Apple. Every device has a large ratio of clean, empty space, even small devices like the iPod nano. On those rare occasions I visit shops that sell non-Apple PCs and their related devices, it often shocks me how every surface seems to have a button, light, slot, grille or protuberance. Apples' ads are the same - the white space makes you focus more on the product.
And that's cool.
By Mark Webster