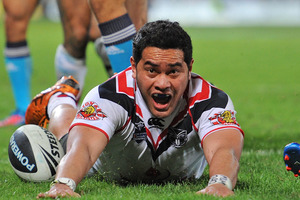 Konrad Hurrell was born in Nukualofa, Tonga and came to New Zealand at the age of 17 on a rugby scholarship. Photo / Getty Images
Justis Kamu looks at the standout issues in the NRL from the past week.
1. If Hurrell is a Kiwi, fair dinkum Tamou's an Aussie
Tonga Rugby League (TRL) should be feeling aggrieved with NRL rising star Konileti Hurrell this week stating his desire to represent New Zealand and not his beloved homeland of Tonga in the international game.
With the 2013 Rugby League World Cup held in England and Wales, Hurrell's attacking prowess and his time in an NRL setup would be hugely beneficial to the Tongan national side 'Mate Ma'a Tonga'.
If the emerging nations of Tonga, Fiji, and Samoa are to be competitive and not just make up the numbers in next year's tournament, they should have access to the best players available to them particularly a player of Hurrell's background.
Famously known as Konrad he was born in Nukualofa, Tonga and came to New Zealand at the age of 17 on a rugby scholarship.
Well versed in his mother tongue 'Koni' spoke little English on his arrival to New Zealand shores in 2009.
Understandably playing for the Kiwis will bring him more favourable financial rewards than appearing for the Pacific Island.
Conversely Kiwi James Tamou's defection to Australia and Sam Kasiano's indecisiveness to honour his intention to play for the Kiwis was heavily criticised.
New Zealand's Rugby League community were quick to point out that if players were born in this country, had Maori tattoos and called their mates 'bro' they were Kiwis.
Hurrell's case is no different to Tamou and Kasiano.
It's just that this time it's the New Zealand Rugby League (NZRL) who will be on the receiving end of the equation.
After this year's eligibility debacle, it will be highly unlikely that Kiwis selectors will let another starlet slip from their grasp.
If the NZRL are to take the high ground on ensuring that Kiwis play for New Zealand and not Australia.
Than TRL should be given the same courtesy - Tongans should play for Tonga not New Zealand.
2. Rabbitohs leave it late to sucker-punch Roosters
The Monday night clash between the South Sydney Rabbitohs and the Sydney Roosters will be forever known as the 'miracle at Allianz stadium'. The last match of the week 19 rivalry round had been billed by the Roosters as a 'Love to Hate' clash in the lead up.
And it didn't full short of living up to the hype as the longest running rivalry in rugby league was kept alive in an extraordinary battle. Roosters Mitchell Pearce's late try looked to have put the game beyond doubt at 22-12 with just five minutes to go.
What happened next was arguably the greatest comeback in NRL history as the Rabbitohs scored twice including a length of the field try with 45 seconds remaining to snatch an unforgettable victory.
The Roosters were so distraught by the outcome they didn't stay on the field to accept the Ron Coote Cup for winning on points aggregate this year's two games between the clubs.
Check out the highlights of this epic encounter between the Rabbitohs and Roosters.
3. Are the Bulldogs revolutionising team attack or are they obstructing players?
In recent weeks the Bulldogs have come under scrutiny for using props and secondrowers as decoys before finding Ben Barba on the wrap around / backdoor play.
Defenders are being sucked in to guard the decoys, resulting in the Bulldogs gaining a one or two man overlap on the outside. The play has become a staple part of the side's attacking plan and numerous tries have been scored from it.
Former Eels and Rabbitohs coach Jason Taylor hasn't been diplomatic in his assessment of their approach stating that the 'Bulldogs are getting away with murder'.
Should the Bulldogs be praised for their new brand of football under Des Hasler? Or are they obstructing players in an NFL fashion?
4. Is Ben Barba the most exciting young player in the NRL?
The Doggies fullback has been nothing short of amazing this season with his blazing displays setting the competition on fire. Without a doubt the young Queenslander is the most exciting young talent in the NRL.
Barba is carving up teams at will with his attacking ability no longer let down by his defensive frailty.
Teams when kicking to the Bulldogs backfield must do so with extreme caution. His electric returns have produced 80m, 90m and 100m tries. The latter is a rarity in the game however Barba has done it four times this season, that's no fluke.
He has been by far the most consistent young player leaving Shaun Johnson, Daly Cherry Evans, Gareth Widdop and a below par Chris Sandow in his wake. Tony Williams, Matt Srama, Josh Maguire, and Kevin Locke respectively have all performed solidly, but Barba is still ahead of the field.
Here's a look at some of his stats - 12 tries, 19 linebreaks, over 2200 running metres, 51 tackles and the Bulldogs have won seven straight and are closing in on a minor premiership. An important cog in the Bulldogs team, if he can continue his scintillating form a Dally M award awaits the Doggies sensation at the season's conclusion.
5. Your comments
@m0rph3usWould love to see the Warriors sign Lewis. Not just for his versatility and skill, but also for his leadership. With Maloney and Luck gone at the end of the season, we need a player like Lewis who is a good communicator and can rally the troops.
- The Warriors won't be lacking in leadership next season with Nathan Friend to assist Simon Mannering. Friend is already turning heads at the club with his professionalism offering a guiding light for his younger teammates.

QP5444Mateo would've given NSW some punch that they lacked. Their playmakers like Pearce & Carney failed to threaten Qld & subsequently the 20pts they did scored were more good fortune. Carney came right by game 3 but I'm not convinced he's ready for the big time. His club form is undeniable, as is the fact he outshone Hayne in the City-Country game. But really, is he the best to steer NSW around the park?
- Agree NSW needed some extra spark in their side, F Mateo could've provided that. T Carney should stay but M Pearce should be the first to go having failed to convince in the seven jumper and claim a series win in four attempts.
Sonny ListonWhen the Warriors played the storm at Mt Smart for example you have Cronk and Smith-two extreme pros who lead by example and who shout orders to the troops vs Maloney and Johnson-two players one bad move away from fading from the game and who dont lead the troops in the same way.Warriors should sell the kitchen sink in order to tempt Thurston to come over as he would be the very best player that the warriors could ever hope to sign and one that is badly needed.
- J Maloney and S Johnson are relative newcomers in their second season together whilst C Cronk and C Smith are world class and have been side by side for the best part of nine years. As for Thurston, he will play out his career at the Cowboys who will up his contract next year.
6. Team of the week
1. Fullback - William Zillman (Titans)
2. Wing - Akuila Uate (Knights)
3. Centre - Alex Glenn (Broncos)
4. Centre - Kane Linnett (Cowboys)
5. Wing - Brett Morris (Dragons)
6. Five-eighth - Josh Reynolds (Bulldogs)
7. Halfback - Tyrone Roberts (Knights)
8. Prop - Luke Bailey (Titans)
9. Hooker - Mitch Rein (Dragons)
10. Prop - Matthew Scott (Cowboys)
11. Secondrow - Chris McQueen (Rabbitohs)
12. Secondrow - Zeb Taia (Knights)
13. Lock - Wade Graham (Sharks)
Coach: Des Hasler (Bulldogs)