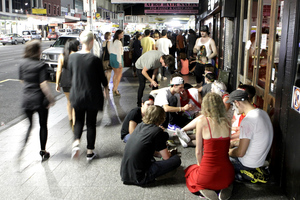 I can't recall the last time I hit the nightspots at 4am. Dreary old age has sneaked up on me and the only time I'm awake in the wee small hours is when I need to pee or put the dog out.
It doesn't sound like I'm missing much.
The problem of drunken, brawling, vomiting revellers has become so great in Central Auckland that Mayor Len Brown has formed a 20-person taskforce to come up with ideas on curbing antisocial behaviour and drunkenness.
They met this week and have suggested ways to improve behaviour: increased community patrols, a better night bus service, improved lighting and tougher parking limits that target the areas where kids pre-load - which is drinking the cheap grog they've bought at liquor stores so they can get half-cut before they go to bars and the clubs. That's where members of the opposite sex congregate and loud music is played, but where the drinks are a lot more expensive.
There have even been calls for there to be a national bedtime, a nationwide shutdown of licensed premises at 2am.
Let's face it, no good happens after 2am. The friendly, happy-go-lucky, fun-loving Piss Fairy turns into an evil, malevolent agent of Satan after 2am.
Working in hospo years ago, I could sense a real shift in mood after two - people became more aggressive and abusive and a great night out could - and did, occasionally - deteriorate into a nightmare.
However, the Christchurch experience would indicate that early closings don't solve the problem. It just shifts it geographically. Although the Strip, the area of bars and nightclubs where Cantabs used to congregate, is no more, police are just as busy breaking up fights and noisy gatherings in homes instead of the bars.
In the absence of a place to party, Christchurch people are bringing the party home and their neighbours aren't happy about it.
I suppose the only way to see an immediate difference is to return the liquor buying age to 20. I had been all for lowering the age to 18, given that 18-year-olds can do almost everything else, but I was wrong.
I didn't see that it would make it that much easier for very young teens to get their hands on grog and use and abuse it.
Meanwhile, I'll stick to the lovely local bars with people who know your name and who close at respectable hours. Queen St is for the young 'uns.