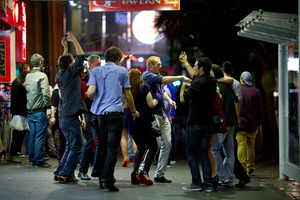 A decade ago, it appeared that Queen St had been reclaimed as a family destination on Friday and Saturday nights.
A liquor ban and then-Mayor John Banks' policy of zero tolerance towards bad behaviour and street racing had produced a safer environment. Now, however, alcohol-fuelled drunkenness, violence and profanity have returned and in the early hours are, arguably, worse than ever.
In response, Mayor Len Brown has set up a taskforce which, commendably, seems intent on acting quickly to create a "safe, friendly, clean and exciting" city centre.
One of the problems it will address stems from shortcomings associated with breaches of the liquor ban. At the moment, the police must go through the time-consuming process of making an arrest or issuing a warning. That considerably dilutes their already stretched resources.
The taskforce's action plan proposes instant fines for those breaking the ban. This seems sensible given the widespread drunkenness, but it can be implemented only after the passage of the Alcohol Reform Bill, which provides for local alcohol plans.
Equally sound is the police plan to concentrate on central city hotspots where people parked in cars "pre-load" on cheaper liquor before going to clubs and bars. Five streets off Karangahape Rd have been identified, with a number of Wilson and Tournament parking areas.
In the case of the streets, the practice could be stopped by making them resident-only parking. The carparks may be more problematic. But any lessening of this behaviour would reduce the number of already inebriated people appearing in inner-city bars.
More contentious is the proposal to introduce voluntary one-way door policies. These would mean people could stay in a bar after a specified time, but could not go from bar to bar.
Manhattan's 1am policy has been suggested as the blueprint. It is easy to see the attractions of this for the police and bar owners. People would have to stay at one premises, swelling profits, and would leave in dribs and drabs, thereby making policing easier.
It is difficult, however, to see a 1am deadline being applicable, given that many people go to the city centre very late at night. The 2am policy operated currently by some Auckland venues may be more suitable. But even that would be too early for some, and would discourage them from venturing into central Auckland. If so, the policy would hardly be in tune with Mr Brown's aim of creating an "exciting" city. Earlier closing of bars would be similarly jarring.
Other aspects of the action plan follow a well-trodden path. There are to be increased community-based patrols and "increased visibility" of security officers. This will undoubtedly help. There is also a well-merited message to the Government to pass the Alcohol Reform Bill as quickly as possible.
In most respects, the plan is practical. It avoids the extreme measures - closing Queen St to traffic on weekend nights, for example - that tainted and eventually undermined Mr Banks' response.
Ultimately, Mr Brown's taskforce must strive not only for an environment that allows people to walk down Queen St without feeling intimidated. It must also ensure it continues to be an entertainment magnet for citizens and visitors alike. A carefully applied scalpel, rather than a sledgehammer, will supply the most enduring solution.