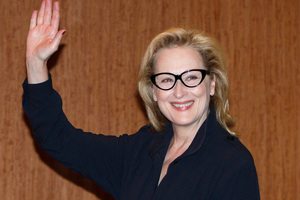 Meryl Streep has offered her thoughts on whether she'd star in a sequel to The Devil Wears Prada.
Former Vogue assistant turned author Lauren Weisberger recently announced that she's working on a follow-up to her 2003 best-seller of the same name.
Weisberger's new story, titled Revenge Wears Prada: The Devil Returns, will continue the adventures of former magazine assistant Andrea "Andy" Sachs, played by Anne Hathaway in the 2006 movie inspired by the first book.
According to Entertainment Weekly, Revenge picks up eight years after Sachs' ego-battering, life altering stint working for cutthroat fashion magazine editor Miranda Priestly (Streep).
Sachs - now the editor of The Plunge, America's "hottest bridal magazine" - is planning her own wedding to a handsome media figure, and crosses paths with her old boss.
"With the magazine world being as small as it is, it's only a matter of time before she hears the dreaded syllables 'Ahn-dre-ah!' again," reported EW.
The sequel will also see the return of Sachs' snippy Runway magazine nemesis, Emily, who now works alongside her at The Plunge.
HarperFiction publishing director Lynne Drew said in a statement: "I'm thrilled to be once more encountering the world of glossy mags, Miranda Priestly and our favourite heroine, with a novel set to be one of the big summer reads of 2013."
The new book is set for release in April 2013.
There's been no official word yet on whether a movie adaptation of the sequel is in the pipeline, but given the commercial success of the film (Streep was also Oscar-nominated for her role as Priestly), it's probably inevitable.
But could Streep be lured back for a sequel?
Access Hollywood's Shaun Robinson caught up with the star at the Women In Film 2012 Crystal + Lucy Awards in Beverly Hills this week, and asked about the possibility of Streep reprising her role in a second Devil outing.
She's game, but...
"Yes, no, no, I don't... is there one?" she said. "I've never heard about it."
She added: "But sure, I mean, I'd have to lose the f***ing weight, but yes. I guess I would do, I would do that, yeah."
Click ahead to 3:35 for Streep's thoughts on reprising her role (semi-NSFW):
Check out the Devil Wears Prada trailer below:
- Blogger Bites Back