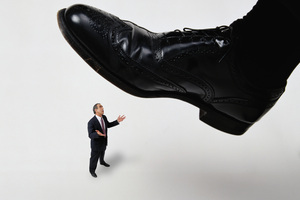 ACC boss quits - news item
This is terrible. It's got to stop. No, really, it does. We've got to be nice to our managers. They matter. Managers are important. So's what they do. It's a social necessity.
Management is the great invention of the post-industrial world. Entirely unnecessary, yes, like the five-bladed razor or employing a political editor, but still indispensable. Just because we don't do anything any more, doesn't mean we don't need an economy - you know, with jobs and stuff.
We do. That's where management comes in. Without management, there'd be mass unemployment and thousands on the breadline, roaming the streets, snapping at their children, not buying smart phones.
Destitute university graduates who've already wasted years studying strategic development or the metaphysics of branding or how to be an entrepreneur (surely the biggest oxymoron ever) couldn't repay their student loans.
They'd be driven to blogging or into the arms of peace-loving gun clubs in the Ureweras.
Policy analysis would grind to a halt. There'd be no 21-person Task Force looking at drunkenness in Queen St. Auckland City would never develop an Alcohol Strategy. The Ministry of Education couldn't calculate the number of technology teachers at intermediate schools who might be affected by some proposed Budget change.
Without management, we'd have chaos, folks, chaos! Without management, this would be a stark and bitter place. Without management, it would be the 1930s all over again - with mousse, on Twitter.
Managers are the bell-wethers of the workplace. They lead us up the ramp and we happily follow them, lambs to the pay cheque, into the occupational abattoir. And, yes, while we may think it's all totally dotty and weird, they know it is.
In the nub of their being, in that small, surviving part of their soul that once dreamed of becoming a B17 pilot or a pole dancer or the best winger in the world or a deadly female assassin - anything, God help them, except being a manager - they know it doesn't matter an existential toss if they change the logo or have another meeting with the PR consultant or review the Treaty policy. They know a life of meetings and paper and "culture shifting" is a life scarce lived. They know it's all just a dream, babe, a vacuum and a scheme, babe, that sucks them into being like this. They know that none of it matters.
Yet they pretend it does. And that's the manager's great gift to us all. They make the illusion real. Bell-wethers they may be, but bishops also, inspiring their secular flock, and generals too, commanding a work force that, truth to tell, in most cases, probably isn't necessary any more. Or wouldn't be if we hadn't invented a whole bunch of new things to do, each of which needs to be managed.
And, generally, managers do that pretty well. Except when they don't. Then we turn on them with ferocious wrath and hang them out to dry, eg, this ACC case.
A couple of ACC case managers - who are, in turn, managed by case manager managers - have a meeting with an unhappy client who has been sent information she should not have received. The client wants resolution. The case managers want the files back.
In the course of their meeting, some attempt to link the two may have occurred. The case managers say they felt threatened. Perhaps they did. We all know what we say but we never know what other people hear. That is the great tragedy of conversation - and this case.
So the case managers write a report saying they felt threatened. The case managers' managers stand by their men. And the case managers' managers' managers (ie the board) stand by their men too. They must. Those are the rules. You can't play any game without rules. You can't break them if you wrote them. That would upset the staff. And there's no "cry" in team.
Then the client releases a tape-recording that doesn't quite tally with the case managers' report. All hell breaks loose. Chaos reigns and everyone gets wet. People quit. Journalists head for the hyperbolic hills, speaking of heads rolling, scalps taken, swords being fallen upon. Their glee, as with every calamity, is ill-concealed. No frenzy's more enjoyable than a storm in a teacup.
This is just plain wrong. We should treat managers like doctors. Doctors never get blamed for anything. They've parlayed our dependence on them into an immunity from attack. Botched operations, botched procedures, no problem, no one resigns. Fix the fault, don't punish the individual - that's the rule.
It should apply to managers too. Our post-industrial society is a house of cards underpinned by a substance, money, whose only value is the trust we place in it, and sustained by an administrative class, managers, whose sleight of hand alone persuades us that the magic show is a thing of substance - reality, not an illusion.