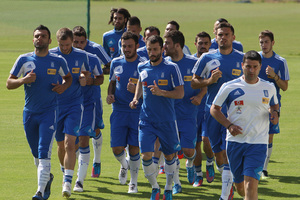 Make sure you enjoy the European Championships over the next three weeks - because after this edition, it will never be the same again.
Euro 2012 will be the last time we see the top 16 nations battle for continental supremacy; by 2016, the finals will be expanded to 24.
The new format means that almost every second country in Europe will qualify, leading to a massive dilution in quality and appeal.
In many ways, the European Championships have often been more appealing - and of a higher quality - than the World Cup. It was the perfect tournament format. There are just 32 games (the World Cup now has 64), almost every game seems vitally important and the final outcomes are often much harder to predict than at Fifa's showpiece event. The Euros have also tended to throw up more surprise champions than the World Cup; look at Greece in 2004 and Denmark's unforgettable triumph in 1992. For the ultimate shock, what about Czechoslovakia beating Germany in 1976, not just for the result but for the fact that the Germans actually lost the penalty shootout, for the first and only time in their history.
Having 24 teams will also means more cumbersome group stages. Sixteen teams will survive to the knockout second round, which means that third place (in a group of four) will be good enough to progress in four of the six groups.
There is already concern - even admitted by UEFA - that this may lead to collusion among two competing teams in a group, who could try to engineer a result to ensure they both finish higher than a team in another group.
It will also make qualifying mostly irrelevant and devoid of intrigue as all the top tier nations will be virtually guaranteed a passage to the final tournament.
Finally, the expansion will preclude smaller nations from hosting the tournament, as they won't have the infrastructure and stadiums to handle 24 teams and 52 games, meaning that hosting rights will be rotated between a few select nations. UEFA is currently struggling to find a host of their 2020 tournament; a Scandinavian bid has not materialised, Germany has apparently backed out and a proposed joint venture between Azerbaijan and Georgia has also not come to fruition, leaving Turkey as the only current bid.
The impetus for change was initially brought about by the Republic of Ireland and Scotland, who argued that the breakup of some European states (especially in the Balkans and Eastern Europe) justified the increase. But since the last expansion in 1996 (from eight to 16 teams) the number of UEFA member nations has only increased from 48 to 53 and the European confederation includes tiny states like Andorra, Liechtenstein, Luxembourg, Moldova and the Faroe Islands. However, the main driver of course is money. UEFA will bank $2.1 billion this time round but that will only rise with more teams and games. They may come to regret their abandoning of the 'sweet 16'.