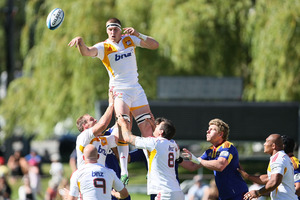 We get excited about the idea of Brodie Retallick in a black jersey and what he suggests as a test lock.
He's everything Ali Williams was - athletic, hard-working, aggressive and skilful.
Williams started with the All Blacks at a similar age when he was taken on the tour to Europe while 21 senior players were left at home to rest for the next World Cup.
Williams impressed with his range of skills and work ethic which demanded he stay with the squad. He did and had a strong All Black career until injury corroded his qualities.
Retallick is about to hit the squad at a similar age and we trust he hangs together and keeps improving.
Not so long ago, another young lock whirred into our view and almost as quickly went out the exit door.
Remember Isaac Ross, the son of All Black Jock and Black Fern Christine, who demanded our attention in 2009.
He played eight successive tests alongside his Crusaders colleague Brad Thorn and was then on the scrapheap.
He was given the word he needed to increase his core strength, build his physical impact and engage in more tight forward duties.
Either he did not listen, chose not to or others simply went past him. No matter, Ross sashayed off to play his rugby in Asia.
Men like Tom Donnelly, Jason Eaton and Anthony Boric slipped ahead of him before Sam Whitelock poked his credentials forward.
Williams may still be the most experienced lock but Whitelock is the frontranker, looking for a partner to help him dominate the tight five categories of our national sport.
Come on down Brodie Retallick, 2.04m and 125kg of unrelenting commitment.
We wondered didn't we at the start of this season, how long his fire would burn. It was hard to believe someone so young and raw, could maintain his standards throughout such a tough campaign.
The Bulls squeezed him for space last round but there was no splutter in Retallick's engine. He soaked up the workout in between two national training camps and stashed it in his learning tray.
The remarkable Thorn is dealing to opponents in the east or Europe, Boric is down and facing more layoff or neck surgery and Williams has been battling.
Pre-season there were thoughts of Jarrad Hoeata, perhaps more work from Tom Donnelly or retreading Eaton.
Now Brodie Retallick is in our face and dominant at just a tick under the height of Mark Cooksley, the tallest All Black.
He never quite kicked on in 11 tests but Retallick suggests there is more sting in his kitbag.