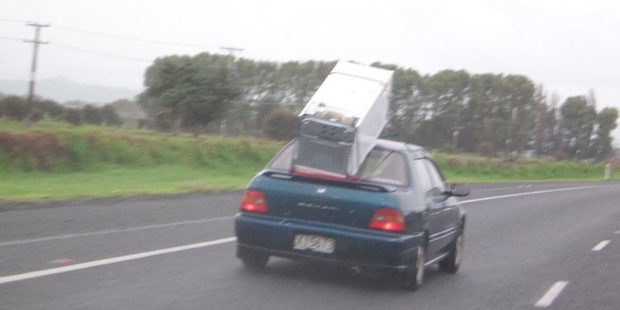 "We saw this heading towards Huntly last year," write Jennifer and Gary. "We reported it, but the cops weren't interested. It was raining and he was travelling very fast - imagine if the fridge fell off!"
Wrong number, wrong husband
Diane recalls a holiday on the West Coast that she'll never forget. "Hubby and I spent the night at a local pub where it became apparent that our hosts were not speaking to one another. In the night I left our room to go down the hall to the bathroom. On my way back I couldn't read the room numbers without my glasses, but I remembered which one was ours and quietly went into the room. Just as I was pulling the covers up on the double bed I noticed a cot folded up against the wall. I hadn't noticed it before. Suddenly, it hit me with a wave of horror that I was in the wrong bedroom. The man next to me woke up and as I was apologising and rushing for the door, he started calling 'Jill, come back, Jill, don't go'. I tried to say I was sorry I was in the wrong room as I rushed for the door, but he kept calling her name over and again. I still cringe when I think about it."
Armstrong's words lost in space
From Reddit: "I can't believe people are so stupid. I'm at work, listening to the radio. I missed what the prize was, but to win you only had to answer a simple question. 'When Neil Armstrong first set foot on the moon, he said these famous words. That's one small step for man ...' Well, that's easy, I thought. But the first four people called in, and got it wrong. The DJ then gave up on his audience and gave away the answer, which was of course 'and one giant leap for mankind'. Kids, for the sake of humanity, STAY IN SCHOOL!"
Ladies only in the trees, please
Japanese architect Sou Fujimoto recently unveiled his ladies-only public restroom which has a toilet in a 200sq m private garden of cherry, plum and peach trees. The 1.8m-high-walled park is located beside a railway station in Ichihara City, east of Tokyo. Japan is a world leader in fanciful toilets, and Fujimoto said he thought the scenery would enhance the user's "feeling of release". (Source: CNET)
The importance of being Sally
Which title for the new Sally Ridge reality show is the real one?
a) The View From the Ridge
b) A Fist Full of Ridge
c) A Ridge Too Far