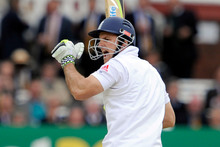 English cricket eyes will turn to Worcester next week.
The West Indies will be between the second and third of their tests against England, so it is convenient timing.
For on Wednesday, a man called Compton will be centrestage once again in the English game.
Not Denis, one of the greatest English batsmen, but his grandson Nick, who has, almost certainly, just one innings in which to score 59 runs and become only the ninth player to score 1000 first-class runs in an English season by the end of May.
Compton, 28, plays for Somerset and has rattled up 941 runs this summer.
Wednesday is May 30.
It is some mark to reach, harder now than in past decades.
The English season has changed. One-day games clog up what was a straightforward first-class programme in the early part of the summer.
There is a New Zealand link to the achievement, Glenn Turner having done it during New Zealand's tour of England in 1973.
The greatest batsman of all, Don Bradman, managed it twice, on Australia's tours of 1930 and 1938. Others to have done it are W.G. Grace (in 1895, just short of his 47th birthday), Tom Hayward (1900), Walter Hammond (1927), Charlie Hallows (1928, and the only lefthander in the group), Bill Edrich (1938) and Graeme Hick (1988).
Bradman and Turner are the only non-Englishmen in the group.
There was a distinctive touch to several of these efforts.
Take Grace. He needed 153 runs on May 30.
Glancing at his Gloucestershire team list before the toss, the story goes that he told his teammates: "I see we are very much below full strength, so I had better win the toss and make a few."
He hit 169.
Hammond, requiring 164, made 192, plundering 1042 runs in just 22 days, with five hundreds and a 99 in only seven games.
Edrich sought 10 on the last afternoon of the month and an unusually generous Bradman, captaining Australia against Middlesex, declared to give him the chance.
Bradman's 124 on May 27, 1938, got him across the line - rather harder than the 46 he'd needed eight years earlier on the last day of May.
Turner scored four centuries in his 18 innings. He was on 70, needing a further 23 on May 31 against Northampton, and got them en route to 111.
Hick had to get 153 in his last opportunity for Worcestershire, against the West Indies, and clubbed 172 not out.
With the exception of Hallows, who played two tests, and Hayward, who played 35 tests over 100 years ago, others are notable names in cricket history. Would this younger, uncapped Compton be a comfortable fit in that esteemed group?
He began with a soft 236 against Cardiff University on March 31. Then followed 99, 8, 5, 133, 204 not out, 30 not out, 21, 83, 50 and 64 and 8 against Durham this week.
Raised in South Africa, educated at Harrow, Compton is aware of the significance of both his surname and the approaching milestone.
In his early county days "I remember old ladies, 70 or 80, coming to the game - whether I played or not I don't think they really cared - but the chance to talk to me and go back to being 30 or 40 again made their faces light up".
His fondest memory of his celebrated grandfather - a cavalier figure and exhilarating batsman, who lit up grey, post-war Britain - was playing in the back yard "with a high elbow hoping to impress. Denis was sitting on the porch, with the ever-present glass of brandy, and he just said to me: 'For God's sake, hit the bloody thing'."
Young Compton should raise a glass to granddad if he hits the thing often enough next week.
By David Leggat

Email

David