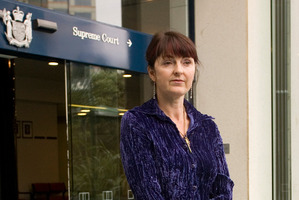 For 11 years, Susan Couch has been fighting. Her first fight was for her life. She was the sole survivor of the Mt Wellington-Panmure RSA murders. Susan was viciously bashed by parolee William Bell, leaving her with broken arms and severe head injuries. She lost 80 per cent of her blood and had a stroke - but she made it through.
Her life was changed forever by the attack. At the time of the murders, she'd been a single mother, working part-time at the RSA to save for a home for herself and her young son. Today, she's in rented accommodation, living on an invalid's benefit while she raises her son.
That she can parent her son is a minor miracle. She can walk, albeit with a stick, and she can drive again. But the damage Bell inflicted on her makes life a struggle.
She hopes to work, either paid or voluntary, some time soon but her balance is out of kilter and she can't easily cope with noise or shocks. She only has one vocal cord and tires easily.
Ever since the attack she's been battling the Government for the right to sue the Department of Corrections for exemplary damages.
She went to the High Court to file her claim; the Court of Appeal struck out proceedings because it said the Probation Service was not bound to offer Susan a duty of care; then the Supreme Court confirmed her case could proceed.
Finally, Susan Couch and barrister Brian Henry could have their day in court.
The case opened this week and Susan's barrister asked that it be heard by a judge and jury. The Crown's reason for opposing a jury left me furious. The case couldn't be heard by a jury, apparently, because it was too complex and the damages case had too many nuances of law to be grappled with.
That is absolute bullshit. The Crown is opposed to a jury hearing the case because they know that reasonable citizens would find in Couch's favour and probably ask leave to bump up the damages by a whole lot more.
Every right-thinking New Zealander must be appalled at the way Couch has been treated, first by Bell then by the Government. Besides, the too-complex argument doesn't wash. The Waihopai trial, the Urewera Four trial, the Scott Watson trial - these were highly complex and the Crown trusted a jury to handle those.
No. The Crown will be reluctant to let a jury decide in Susan Couch's case because they fear a ruling in her favour would open the floodgates to a whole lot of New Zealanders who have been badly let down by government departments.
The mean-spirited attitude from various agencies has been appalling. The case will cost more than she's asking for. Give the woman a break, for God's sake. It's the right thing to do.