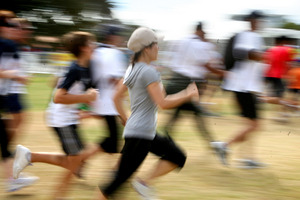 Thousands of people will be lining up in downtown Auckland for Round the Bays run this weekend. I'll be on the other side of the harbour doing a similar distance in the Coatesville Classic.
Feeling giddy with excitement or just plain sick to the stomach?
I admit I'm pretty nervous about my first running event in a while, particularly given my last race was a bit of a disaster.
The big difference between that event and my run this Sunday is that I have actually done some training.
All going according to plan I won't be stifling waves of nausea on the finishing line, but let's be clear, I won't be crashing through the tape in first place either.
Based on my training runs I'm guessing it will take at least 60 minutes to run the 8km course. Looking back over the previous year's results, the race winner could complete two laps of the course in that time.
Anyway, to ensure I make the best of my day I've talked to a few pros to get some tips and tricks.
Shaun Collins:
A long-time runner, Collins has 15 years of experience as a race organiser of Lactic Turkey events. He says in the last couple of weeks before an event people often panic about their training and attempt to squeeze some more runs in.
"It's just about too late and you're more likely to do damage than good. You should be resting or tapering down and just doing some nice cruisey runs."
Collins recommends a last, easy half-hour run a couple of days out from the event. The day before is a good time to drink a bit more water than usual to ensure you're hydrated and maybe eat a little bit extra too, he says.
This is also the time to make sure all your gear is organised, even to the point of having a check-list - knowing exactly where the start line is, how you are going to get there and what time you need to allow. Seems pretty obvious stuff, but as a race organiser, Collins has seen more than his fair share of competitors scrounging around for a pair of shoes having left their trainers at home.
He says it is always nice for event organisers, marshals and the like - many of whom are volunteers - to get a "thank you" from competitors, even if all you can muster is a feeble wave as you're directed along the course.
Chris Hope:
Hope has been running for nearly a decade now, having started with a 10km fun-run and now regularly runs marathon or greater distances. He is also the mastermind behind the New Zealand Running Calendar, a fabulous resource for runners. He recently launched an Australian equivalent.
Hope says a common mistake is running too hard at the start.
"No matter what distance the event is, if you go out too fast you're going to pay for it at the end. You tire yourself out to early," he says.
Because I train by myself and am likely to get buoyed along a bit by the crowd, I know this is something I'm going to have to watch.
"You need to listen to your body, and that goes for your training as well. If you feel like you're pushing yourself too hard then you probably are and you probably need to slow down," Hope says.
His other piece of advice is not doing something on race day that you haven't done in training. This includes everything from clothing - there's nothing like chaffing and sweat to rediscover where the old adage about salt and wounds comes from - to downing energy drinks you've never used before - more likely to give you a tummy ache than a performance boost.
"You want to have fun and you want to enjoy it and the easiest way to spoil that is to do something different and it not work."
Scott Winton:
Last year's Round the Bays winner Winton has some post-race tips. The marathon specialist isn't sure if he'll run this weekend, but if he does then expect to see him stride across the finish line around 26 minutes after the starter's gun.
The first hour after finishing an event is an important time for ensuring you don't feel stiff and sore in the coming days, Winton says. He suggests going for a gentle 15 minute walk within half an hour of crossing the finish line.
"That just gives your body a chance to flush out all the toxins. Your body will probably be full of toxins at the end of the race, especially if you're not used to it."
Those running Round the Bays have the advantage of being able to wade into the sea, which will also help with recovery, says Winton. If not, a cold shower will work too.
Steer clear of the post-run sausage sizzle and beer, he says, and opt instead for some "decent" carbohydrates and protein. Winton says something with hummus, avocado or eggs are good options but avoid anything fatty.
Follow Helen Twose on Twitter

Events:
Round the Bays and the Coatesville Classic are just a casual warm-up for the athletes running the Tarawera Ultramarathon, a 100km off-road run from Rotorua to Kawerau. Saturday March 17.