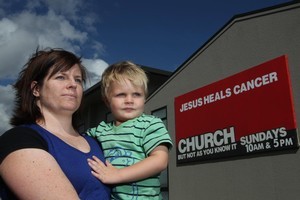 So Jesus heals cancer, does he?
Well, that's what it says on a billboard erected by the Equippers Church in Napier. And Pastor Earl Joe (like Lloyd George, Barry John and Cory Jane, he seems to have his name back to front) was equally emphatic: "Can Jesus cure cancer? Yes, we believe he can. We've actually seen healings in the church. Absolutely."
He was even prepared to put a number on it: Jesus has healed six cancer-stricken members of the Equippers congregation of around 150.
Whether by accident or design, the church has reignited the debate over exactly what sort of god God is. Is he (or she) a detached deity who does the big picture stuff then takes a back seat? Or is he, as the Equippers obviously believe, a hands-on micro-manager, rather like the late Apple boss Steve Jobs only on a cosmic scale?
On closer inspection, the Equippers' version seems to be somewhere in between: he will intervene, but only if you ask nicely.
This God is more like the experienced but prickly colleague who knows how everything works, but won't offer help or advice without being paid due deference: "I don't go around sticking my nose in or forcing myself on people - if you want my input, you'll have to ask for it."
While environmental and lifestyle changes may cause cancers that didn't exist or occurred less frequently a hundred years ago, that's balanced by the fact that back then just about everyone believed in God and went to church. So we can only assume the reason so many devout Christians have died of cancer is that, unlike the Equippers, they were backward in coming forward.
That makes a certain amount of sense. People were stoic in those days, less demanding, anxious to avoid imposing on others or being a burden. God had a lot on his plate and they didn't want to be a nuisance by treating him as a sort of glorified GP.
Of course, the moment you assert the existence of an interventionist God, you open yourself up to the line of attack favoured by generations of schoolchildren seeking to enliven divinity class: if there is a God who's merciful and omnipotent, why does he let all those children in Africa starve?
Why doesn't he vaporise the murderous thugs who run Syria, and put an end to the carnage? Why does he allow so many people to be wiped out by tsunamis and floods and earthquakes? (The sharp-witted child will point out that insurance companies refer to these events as "acts of God.")
For that matter, if God and his offsiders Jesus and the Holy Ghost can heal six members of one church, perhaps they could see their way clear to saving Otago rugby and doing something about the traffic in Auckland.
This is where the "God exists but he's not taking any calls" school of theology is on firmer ground. It would argue that God created us, gave us free will, and provided us with a shining example in the life and times of Jesus Christ and a powerful incentive in the form of an afterlife.
From here on, though, we're on our own. We can't have all that and still expect God to save us from ourselves every time we start a destructive war over a spurious border dispute, or cause a plague by not washing our hands after going to the toilet.
I have a couple of other quibbles with the Equippers' claim. If our earthly existence is merely a prelude to the afterlife, and given that the reward for leading a godly life - if not indeed the whole point of it - is to get to heaven and sit at God's right hand for eternity, why make such a big deal of being cured of life-threatening illnesses? And if God created everything, that presumably includes cancer. What's more, he decides who gets it and who doesn't.
If you look at it that way, it's all just a make-work scheme, God finding ways to keep himself occupied. As it (almost) says in the Book of Job: the Lord giveth and the Lord taketh away.
Angelina Jolie doesn't need a billboard to send a message: she strikes a pose at the Academy Awards and the world goes weak at the knees.
With that provocative yet imperious red carpet pose, hand on cocked hip and right leg bared, she not only stole the show and saved an otherwise ho-hum occasion from being a complete yawn, she also gave a masterclass in one-upmanship.
The message was unmistakable - regardless of who collects the baubles, you are now looking at the biggest, most glamorous star in the firmament.