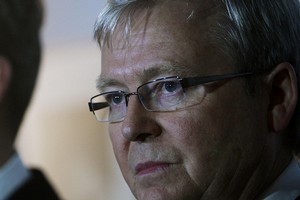 The phoney war is over. After nearly two years of pretending that their relationship consists of sweetness and light, Julia Gillard and Kevin Rudd can trash each other openly.
And as senior ministers line up to vilify one or other of them, it's like watching a boil being lanced in slow motion.
There had been plenty of rumblings about Rudd's leadership style, for instance, but no one was willing to nail it on the record. Now we have this from Wayne Swan, once a good friend. Rudd, he says, is "deeply flawed", with a "deeply demeaning attitude" and a "dysfunctional" way of making decisions. Don't hold back, Wayne.
Then there were the damaging leaks that nearly wrecked Julia Gillard's 2010 election campaign. Everyone believes Rudd was the source, but until now no one had stated it explicitly. Here's Stephen Conroy, the Communications Minister, yesterday. "Everyone remembers the sabotage that went on ... For somebody to be engaged in destabilising and giving Tony Abbott a chance to win the last election is an absolute disgrace."
Personal attacks aside, and there'll be plenty more of those, the serious business in the coming days involves talking up the numbers, with each side trying to convince Labor MPs of their near certain victory. No MP wants to be caught backing the wrong horse - there could be retribution.
This is a contest that has nothing to do with jobs, healthcare or schools. It's all about who can win the next election for Labor, so both Gillard and Rudd are busily setting out their stalls. With no false modesty, Rudd described his achievements while Prime Minister as "formidable". Gillard, for her part, pointed to her "inner personal fortitude and strength".
It's a relief to hear the Prime Minister finally talking frankly about the man she knifed - and, for the first time, explaining why she did so. Rudd, she says, "always had very difficult and chaotic work patterns ... As dysfunction grew, I did everything I could to try and salvage the situation. I went to extraordinary lengths ... to try and get the government functioning."
Rudd might still be teasing everyone with his procastination, but few doubt that he will stand. Yesterday - aware that while his colleagues might detest him, the public, for some reason, likes him - he appealed to Australians to "pick up the phone, talk to MPs, express your view".
He also wheeled out his wife, Therese Rein, who declared him "strong and courageous ... true to himself". And he sought to harness "people's power" - perhaps hoping for a popular revolution of the kind that toppled the Philippine dictator, Ferdinand Marcos, in 1986.
Kim Carr, the Manufacturing Minister demoted by Gillard last year, declared that Rudd was a "changed man", and he also recalled how effective a campaigner he was in 2007. That, of course, is Rudd's biggest selling-point: he won a landmark election, resoundingly. He himself is raising the spectre of an Abbott victory next time, no doubt hoping to frighten the Labor horses.
Voters might be left wondering who is the real Kevin Rudd. Labor's saviour? Nicola Roxon, the Attorney-General, says: "We need to get out of this idea that Kevin is a messiah who will deliver government back to us." The Devil incarnate? Dracula? "Some senior ministers are intent on putting a stake through Kevin Rudd's heart," laments Senator Doug Cameron, one of Rudd's staunchest backers.
Lazarus? We will have to wait until Monday to find out.