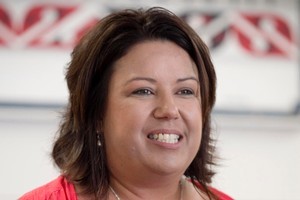 New Zealanders can be a loud, stroppy, opinionated bunch. Actually, that's exactly what I'd hoped for when I set out on a green paper tour of the country.
Usually when I start talking about child abuse and neglect, I see heads turn as people look at their feet, desperate to escape an uncomfortable topic. But as I toured the country, fronting up to New Zealanders in town halls and community centres and asking them to debate this issue with me, I got exactly what I asked for.
From Kaitaia to Invercargill and in every one of the 17 public meetings I fronted, New Zealanders have been outstanding. Meetings have been packed to the rafters, often with standing room only, and people have come with attitude.
When I say attitude, I mean the kind of attitude that is willing to talk openly and honestly about the uncomfortable issues raised in the green paper. New Zealanders have been blunt about what's going wrong for our children and how they think we can put it right.
I've seen and spoken to mums, dads, uncles, aunties, children and grandparents, to caregivers, abuse victims and survivors, social workers, teachers, social service providers, budget advisers, doctors, mental health and youth workers, government employees, volunteers and politicians.
I asked for constructive ideas and I got more than expected. Some of the ideas raised include changing privacy laws just for under 16-year-olds to share their information more freely, having parenting classes for children in schools, creating social-service hubs in schools, monitoring children from birth and also tagging parents who abuse children so if they turn up at Work and Income pregnant or with a baby after a child has been removed, we can make sure the next baby is safe.
There was a lot of debate on mandatory reporting and the sense I got was that most people support this as long as there is a clear and agreed threshold and process for what is reported, when and how. Similar caveats were called for on information sharing, which was almost universally supported. Most people felt we should be sharing more information, but as I pushed them to think about how that would work in practice there was agreement that checks and balances would be vital.
Prioritising services for vulnerable children and parents of vulnerable children got a resounding yes from most, even though this means other New Zealanders must step aside. That's a big call and a tough one. Some had issue with it, and for good reason. What if you have a brother or a friend with a drug addiction who has to wait in the queue so an at-risk mother goes ahead of him? That puts children first, but at a cost to others. This has been debated hotly.
I spoke to children who told me they want more after-school programmes. This was not simply because they enjoy the activities, though clearly they do. They said it's because they don't want to go home from school and watch their parents sit around drinking. That makes you stop and think, doesn't it?
The vast majority of what I've heard from the public has been constructive and focused squarely on making sure children are better protected and always remain at the centre of our thinking.
I believe it is the role of politicians to listen to what New Zealanders are saying on these issues and to then support the will of the public. The best way for these changes to be sustainable and to be genuinely cross-party is for the public to make itself heard loud and clear. I don't believe political parties should be making decisions on these issues ahead of the public. This stuff is too important and affects too many New Zealanders to simply leave it to politicians to decide.
Already we've had more than 3000 submissions and with two weeks to go I expect a lot more. But here's a thing - the green paper has been downloaded nearly 20,000 times in four different languages. That tells me an awful lot of people have cared enough to take an interest and have got as far as downloading and reading the paper.
What I'm asking now is to take that next step. Make your submission, encourage others to make one, talk to your children, neighbours, family and friends about it.
Make yourself heard, New Zealand.
Paula Bennett is Minister for Social Development.