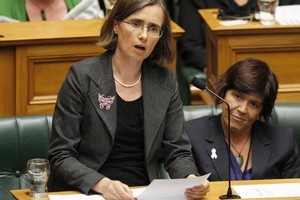 Something many people may have forgotten is that there were two elections last November. That third little tick more than half of us put down on our ballot cards showed that it was the will of the public to keep MMP as our electoral system.
New Zealanders recognised that the level of fairness and equality that this model permitted was far greater than the other alternatives. They recognised that it was the model that had allowed for more gender equality, ethnic diversity and religious inclusion in our House of Representatives. It was the system that allowed for the best possible representation of society to speak for us as our Members of Parliament.
It was because of this electoral model that Mojo Mathers was able to join Parliament, to the joy of not only the deaf community, but to everyone who advocates equality of opportunity. Having the disabled community directly represented in Parliament was a beacon of hope for advancing understanding and tolerance of disabilities, not just in Government, but across society.
So it was with great sadness that I read that Ms. Mathers and the Green Party were being required to fund her involvement in Parliament. This defies the whole point of MMP's diversity of political representation, and has been a striking blow to one of the deaf community's biggest triumphs. Yet what this story did was highlight exactly why we need people like Ms. Mathers in Parliament.
Ms Mathers is by no means the first deaf person to face communication difficulties at her place of employment, nor will she be the last. Yet being in a public position of leadership and advocacy has allowed her to bring these issues centre stage. This is not a problem limited to Ms Mathers and Parliamentary Services; it is one that is faced by all people with disabilities and their employers.
Inevitably, it is a situation that requires the compromise and understanding of both parties to strike a balance between the practical realities of the workplace and the provision of the necessary facilities that people with disabilities require. Inevitably there is a limit to what resources are available, and a line has to be drawn somewhere.
This is precisely where political leadership comes into play. It is a fundamental tenant of a Parliamentary democracy that we elect our MPs is to represent us and act in our best interests, and recognise that while some MPs may not speak for us, they do speak for some. Parliament and politicians need to lead by example, and what better example to set than facilitating and encouraging Ms Mathers' full and active participation in the House.
The Speaker and Parliamentary Services have a chance to set a phenomenal precedent for employers across the country as to how issues of disability can be recognised, discussed and constructively addressed so that everyone is able to perform their job ably and capably.
Some may recall that Parliament faced similar problems with the debate about Maori translators in the House. The inclusion of Maori MPs would have simply been an empty gesture had they been unable to speak to the House in Te Reo. Out of recognition of this, a translation service was provided, and to this day MPs are able to listen to a real-time translation of Maori to English or vice-versa should any MP wish to debate in Te Reo.
Parliament unanimously decided to make New Zealand Sign Language the third official language of New Zealand in 2006. It was recognised and designated as such, along with Te Reo, out of recognition of the fact that not only is it the primary language spoken by over 24,000 New Zealanders, but also in the interests of equality and acknowledgement of the principle that disabilities ought not hinder someone's quality of life.
It is why we have wheelchair ramps. It is why we have ridges at pedestrian crossings so blind people know when to stop. It is why buses can lower their door to the kerb. It is why guide dogs can travel on trains for free. It is why we support our athletes at the Paralympics, why buses reserve seats for the disabled and why modern elevator buttons are printed in Braille.
Over time society has come to recognise the fact that disabilities are an integral part of the world we live in, and so instead of ignoring the challenges that they face we must embrace and work together to solve them. People do not choose to be disabled. It is a burden that they must carry for their whole lives, and as such society has a duty to do everything they can to make the lives of these people just that little bit easier, and it should start from the top in Government.
Disability should not be a barrier to employment, and Ms. Mathers' entry into Parliament has highlighted this fundamental principle of equality. This is why we need her in Parliament, and this is why we need her to be able to be able to participate as easily as all of the other MPs, otherwise her inclusion is simply an empty gesture. She will not be the last deaf MP, nor will she be the only disabled MP. We need to set a benchmark now so that future generations can take part and get involved in spite of whatever disability they may face.
* Philip Greatrex is a student of Political Studies and History at the University of Auckland