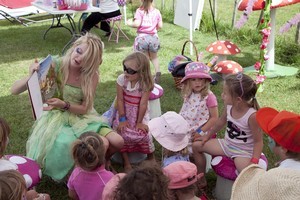 Traffic was a snail's snarl-up. The two excited 7-year-olds got stuck into the picnic lunch before we got to Warkworth. We were tricked by a billboard into parking 2km too early. It's fair to say I was in a non-blossomy mood by the time we entered Bloom, New Zealand's inaugural family festival.
But even my wilt wore off quickly. Art director Becky Ehler had spent a week turning the Matakana Country Park into an olde-time carnival with bright banners and bunting. Cute toy frogs were turning swampy corners into magical places. Bison galloped across assorted teepees.
Many festivals are family-friendly, says Bloom director Francis Hughes. But the three-day Bloom - inspired by Britain's Camp Bestival - is the first one in Aotearoa which is "family-oriented".
This meant most of the people we saw were kids running around in their togs having the time of their lives. They were abseiling; skateboarding; painting and being painted on; watching medieval jousting; getting lost in mazes; listening to stories; taking circus, art, football, magic, ballet and ukulele workshops; and entering creative Lego competitions.
The idea, says Hughes, is that families are not just watching performance; they're able to get involved.
We immediately got festystential angst: what to do first? At any festival, it doesn't matter that there are 37 things on offer right now, you can still only do one thing at a time.
The kids were torn between the screaming-fun four-storey-high inflatable water slide and seeing whether the preschooler "Disney Village" was better than Disneyland (face painting-wise, it was). In the end, they were sidetracked by the lack of a queue at the spinning swings, happily within earshot of energetic Afrobeat band Zoh Zoh. Ten minutes later, "it was so fun I almost vomited!" was the ecstatic verdict.
I went to the mini sculpture park on my own, as the kids and our driver preferred Old McDonald's petting farm. The Richard Darbyshire replica Endeavour cannon, covered in skulls and Black Jack cards, turned heads. It was, said Darbyshire's smiling fellow sculptor Glen Davis delicately, "a bit of a slightly political piece".
Later, in the chapel, illustrator Donovan Bixley in clown boardshorts was doing live whiteboard animation to Kyle Mewburn's reading of his own "very snotty story" in which dinosaurs catch people flu. Bixley ran out of room for the hind flippers of a plesiosaur. "It's an old illustrators' trick," he explained educationally. "There'll be text over here so I only have to draw half a dinosaur."
We had a great afternoon, but clearly, the more time you spend at Bloom, the more you enjoy it. This year, it cost around $340 for two adults and three kids to have three days' entertainment - including what were reportedly stratospherically good fireworks - and a camping site for two nights. That will never be in everyone's budget, but it's damn good value and worth saving up for. There was a great variety of good food on offer. Best stall name: Jamaican Me Hungry! (Say it out loud.)
Next year, Hughes says, they're looking into more workshops, and giant sprinklers to keep everybody cool. Ace. The free sunscreen was a nice touch; free drinking water taps would seem equally necessary when the place is full of unsupervised kids. With that - and a bit more shade - Bloom would have entirely lived up to Greg Straight's wonderful, bright-green billboards.
As the kids said: "It was amazing! Especially holding the guinea pigs!"