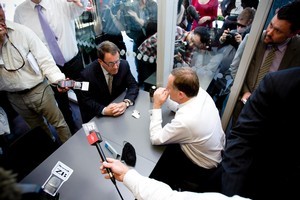 John Key's claim that politicians are more blunt and less diplomatic in their language when in private is true and hardly surprising.
It's also a convenient way of saying he may have meant what he said to Act's John Banks in the teapot tape before the election, but it could have been phrased in a much friendlier way.
But the fact that Key's alleged comments about New Zealand First supporters could be interpreted in different ways has led him to do something else that politicians do regularly: apologise for any offence that may have been taken.
Yesterday's anonymous publishing of the recording on a file-sharing site seemed calculated to trump Key's first major speech of the year, and to give the tape further oxygen as Parliament prepares to sit for the first time this year, on February 7.
But Labour will be wary that the public largely sided with the PM's view at the time that it was of no interest to anyone but the media.
Key's remarks also appear to be far less juicy than his opponents would like, and it is Banks' comments that are more open to being interpreted as nasty. Rather than attack what was said on the tape, Labour is likely to focus on Key's decision to complain to the police, which led to four media organisations being searched in the days before the election.
And it may have more public sympathy there: a Herald-DigiPoll survey on the eve of the election found that 50.2 per cent thought Key should not have laid the complaint, versus 39 per cent who thought he should have.
New Zealand First leader Winston Peters is far more experienced than Labour leader David Shearer and more likely to use the tape's contents as ammunition in the House to try to make the PM look uncomfortable.
But Peters has already drip-fed to the public the best material, including the men's comments about New Zealand First supporters, their opinions of then-Act leader Don Brash, and the future of the Act Party. Yesterday, his only demand was for Key to withdraw the police complaint.
Given Key's stance on the right to privacy and what he saw as the slippery slope of letting the media get away with what he called deliberate covert recording, the chances of that are nil.