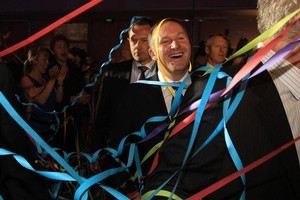 2011 Political Awards
Each party gets an MP of the Year Award, plus a few additional ones:
ACT MP of the Year - Rodney Hide
Rodney Hide saw his good friend Don Brash force him out of the leadership, and then saw the ACT Party reduce from five MPs to one MP. Not once has Rodney gone public and pointed out the obvious - that if he had remained as Leader ACT would have done better at the general election.
Instead Rodney has maintained a dignified silence, and just carried on working as a Minister right up until the election.
Maori Party MP of the Year - Te Ururoa Flavell
Flavell beat high profile Mana candidate Annette Sykes with a majority twice as large as that of Pita Sharples over Shane Jones. He's been a workhorse on select committees for the Maori Party, and was the MP who forced the Hone issue to be confronted.
He is now the co-leader in waiting and will no doubt go into 2014 as the co-leader.
Green MP of the Year - Gareth Hughes
One could argue it should be Russel Norman, but he is covered as a runner up for Overall MP of the Year. Hughes only became an MP in 2010 and was typecast as the young activist who had dressed up as Ronald McDonald.
In his two years in the House he has gained a lot of respect for his contributions - especially in the ICT area. However the fact he is also the party's energy spokesperson shows the trust they have in him.
Could we in six or seven years time see the Greens led by two MPs in their 30s - Gareth Hughes and Holly Walker? Not at all impossible.
Labour MP of the Year - Damien O'Connor
Damien did what no other Labour MP or candidate could do in 2011 - he won a seat off National.
O'Connor was not re-elected to Parliament in 2008 as his party ranking was too low. But when Michael Cullen left, he came back in.
O'Connor was a model MP around the Pike River tragedy. He knew many of the families, and like all on the Coast was personally devastated by what happened. Unlike Labour's Christchurch MPs who sniped constantly at the Government, he generally refused to score political points off the tragedy, and even did joint media appearances with the electorate MP - Chris Auchinvole.
As Labour realised how out of touch it was with people in the provinces, O'Connor was given a starring role in Labour's opening address. He refused a list placing in 2011, but went on to win West Coast - Tasman back off National and secure his career.
Labour needs more MPs like O'Connor who can actually win seats off National, and attract swinging voters to Labour - rather than merely excite the already committed base.
National MP of the Year - Gerry Brownlee
National's vote increased by 7% in Christchurch and Labour's dropped by 10%, plus National won the seats of Waimakariri and Christchurch Central. This was a huge cote of confidence in the job done by Gerry Brownlee to rebuild Christchurch.
The job of Earthquake Recovery Minister is emotionally draining on the Minister and his staff. They are dealing with human tragedy - 200 dead, thousands homeless, tens of thousands affected financially and a wrecked CBD.
As Minister you can't solve all the problems caused by the earthquake - even with an $8b spend. You can at best mitigate the impact it has had on people's lives. Despite that there are many difficult cases with some residents in the red zone not wanting to be in it, and others complaining they are not in it.
You've also had a constant campaign on niggling from the local Labour MPs. One of them even feeds (through proxies) bad news stories to the media to keep the pressure on.
The election result is not the final say on Brownlee's efforts in Christchurch. That will be a judgement of history in 10 or so years' time. But for now it has been enough.
Overall MP of the Year - John Key
Key took some big risks in 2011. He started the year by announcing a plan for partial asset sales, knowing it has traditionally been lethal. However he counted on his ability to communicate that this would not be like the sales of the past to large foreign corporates - these would be minority stakes sold primarily to New Zealanders. His gamble paid off, and National's share of the vote was higher in 2011 than 2008 despite the partial asset sales programme.
Key also announced the election date in January - throwing away the traditional tactical advantage of being the only one who knows when it will be. Another gamble that paid off, as it removed much of the focus on the election until after the Rugby World Cup.
A third gamble was having an election year budget with no extra spending. This had never been done before. Labour had spent two years complaining that National's rate of increased spending was too low and should be much more. Key upped the stakes with the no extra spending budget and Labour folded - suddenly agreeing that extra spending was not affordable. Key got Labour to fight the campaign on his terms - about reducing the deficit and getting back into surplus.
A runner up for MP of the Year is Russel Norman, who along with Metiria Turei led the Greens to exceeding 10% for the first time. His careful positioning of the Greens as able to "green" National but prefer Labour paid off, as did his increased credibility on economic issues. Long gone are the days when the Greens argued economic growth was a bad thing (now they think it rather than say it).