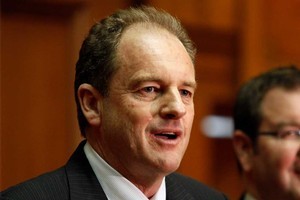 New Labour leader David Shearer promised change, a fresh approach and a big pie but it was Greens co-leader Russel Norman who "took the Christmas cake", according to Winston Peters when MPs returned to Parliament yesterday.
The MPs filed in and sat in high anticipation to hear Shearer deliver his first big speech as leader.
He began by promising change and a fresh approach. He also promised to "listen", before he got to the most exciting part: promising Labour would "grow the pie". He said he had spent his life solving difficult problems, and so he knew how to make a big pie.
He added that Labour was against child poverty and state asset sales, astounding MPs with such audacious policy statements.
He said he would march against those state asset sales.
National's Gerry Brownlee said, "You've already done that."
When Shearer was done, Prime Minister John Key was quick to congratulate him on attaining the lofty post of Leader of the Opposition, but warned him it was a difficult job "and not always a lot of fun".
Key then set about delivering a thesis on the state of the Labour caucus and who hated whom.
He suggested they draft in a fourth David for the contest next time.
"They don't need David Shearer, or David Cunliffe or David Parker. These people need David Copperfield. They need a magician over there to sort out their problems."
Russel Norman stood to read out a "Christmas Story". Pausing briefly to declare himself an atheist, he spoke of the "remarkable" birth of Jesus Christ, complete with farm animals and swaddling cloth.
He ended the tale with a quote from Fyodor Dostoevsky (who else?) calling on the world to "love the animals, love the plants, love everything".
Alas, the resurrection of Winston Peters had not resulted in any all-embracing love. After a three-year absence, Peters got his first laugh from his very first sentence.
"As I was saying, before I was so rudely and foully interrupted," he began - using the words of the Daily Mirror columnist Sir William Neil Connor after the war.
The good will lasted for only that sentence. Peters blasted Act, United Future and the Maori Party for selling out on their principles by going into government with National.
He would never make the same mistake: "One thing NZ First will never do is sit at the table and have our heads rubbed. That is not our destiny."
That prompted a loud laugh from Maori Party MP Te Ururoa Flavell. "You've done that already," Flavell reminded him.
By now, the Greens were getting anxious about the lack of "vision" in Peters' speech. Peters observed they had not heard much "vision" from their own co-leader, Norman.
"What [they] heard was a most stunning speech about the proximity of the Greens to Christ. And I thought, 'That was news'. I've heard a few things in my time, but I really think that might take the Christmas cake."
Peters then moved on to his real target: National. He had some questions, and because Labour had so far got off scot-free, David Parker made the mistake of thinking he was friend, not foe.
When Peters asked where the money was coming from to pay for National's "deals", the ever-keen Parker called out loudly: "Asset sales."
"Anybody know?" Peters asked again. "Asset sales," Parker shouted back, even louder this time.
"Listen to this," Peters said triumphantly. "A deafening silence."
Having been made into pie, Chopped Liver sank back in his chair.