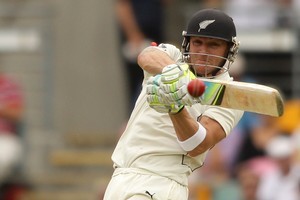 I said last week that cricket was a crazy game. This week I think it is a cruel game. Being stuck in on that pitch on Friday was the last thing this Black Cap team needed.
They were very difficult batting conditions in the first three hours, leading to a no-win situation for our team's beleaguered top order.
Regardless of the New Zealand bowlers and the Australian batsmen putting the conditions into perspective, our lads really didn't need to lose that toss.
After the vitriol that followed an irresponsible display in Brisbane, I saw a vast improvement in batting attitude on Friday and yesterday.
That they were rolled for 150 was more down to that green-top and the toss, underlining an already fragile mental state.
It certainly wasn't down to a lack of application, as was proved in the second innings yesterday.
What I saw was a top order trying their damnedest to apply themselves in the first innings, to leave the ball and bat with control but ultimately doing so in a hopeless situation. I also saw an irony that presented itself at the worst possible time.
Possibly the situation on Friday didn't require tight defence and accurate leaving. It maybe needed a bit of the carefree opportunism of the approach in test one. Oh, those poor devils, they're damned if they do and damned if they don't.
Green-tops put the emphasis on runs scored more than time at the wicket because sooner, rather than later, a ball has your name on it.
But after the fall-out from the first test the only bloke I know that is headstrong enough to take that approach would have been Glenn Turner - who was in fact the man I first learnt that approach from, but I didn't have the courage to apply.
I've still a few issues with some of the defensive techniques applied by the top order and, having decided on a defensive approach, they still need to get better defensive strides in.
They can struggle with the mentality of crease occupation because I saw a first-innings approach that suggested 'leave first, play second'.
Even when playing within oneself, the mentality must always be to play first and leave second.
You even have to defend a little wide when the ball is seaming to cover 'no shot' type of dismissals.
You only have to look at the first ball of the innings when Brendon McCullum left it and it went over leg stump to know leaving the ball was the focus.
But how can these skills be honed with the lack of practice time available for test batting with the amount of T20 and ODI play in the calendar?
John Wright can shout till he's blue in the face but skills need a lot of dedicated practice time to develop and maintain.
I hear cricket people in this country talk of the player's 'I.P' or their intellectual property.
I agree they do have intellectual property but in this country it has the property value of an outhouse in South Auckland. However I reckon - and I hope they see it too - that through all the carnage of Friday, between last Sunday and now, they did do more than a little work to improve the foundations.