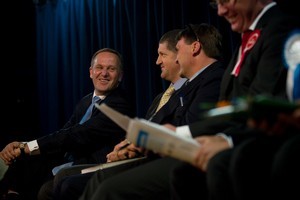 Call it safe, call it boring - National's campaign is hardly setting the election alight. But then it doesn't need the election to really catch fire.
It just needs to not stuff up.
While Labour was sent reeling yesterday by another bad poll result, National has probably corralled as much support as it is likely to get.
So National is playing safe. It is seeking to cement that support with policies with high cross-over appeal, such as welfare reform. It is oiling squeaky wheels - further delaying, for example, a full emissions trading scheme.
Having castigated Labour as spendthrifts, National is making a little stretch a long way - be it $7 million for free after-hours emergency treatment for children under 6 or underwriting a temporary sports stadium for Christchurch for $20 million.
Nothing too dramatic which might scare the horses, but enough to fend off accusations the party is sleepwalking to victory.
National's campaign is built around its leader. But National is not pumping up Key's credentials and attributes. It takes those as read. Other Cabinet ministers are seen and not heard by and large. Key does the talking so there are no mixed messages. It is left to Key to project the positive. The negative has been delegated to campaign chairman Steven Joyce. He is tasked with attacking or rebutting Labour.
However, National's guiding principle seems to be to avoid engaging with Labour if at all possible unless circumstances dictate otherwise. If a response is required, then the rebuttal is almost guaranteed to contain the words "spend", "borrow", "debt" and "Labour" no matter the issue at stake.
The risk is opponents fill the vacuum and thus start dictating the agenda. However, any argument soon runs out of steam if one side refuses to partake. Take Key's refusal to respond to Robyn Malcolm's taunts at the Greens' launch last weekend. All this requires iron discipline. And, so far, discipline within National has been rock solid. In contrast, Labour's strategists woke up yesterday morning to one of their MPs thinking aloud about the party's future leadership just when the polls are showing Phil Goff's personal rating starting to climb.
National's strategists woke up to another poll showing the party could govern alone and Labour sliding further into the mire.
National's strategy would seem to be vindicated. The question now, however, is whether this business-as-usual approach to campaigning is sufficient to achieve the goal of governing alone. National's enemy in this election is no longer Labour so much. It is the combination of voter complacency, voter apathy and low turnout - that voters drawn to National either do not feel they have to tick National on the ballot paper because the result is a foregone conclusion or cannot finally bring themselves to do so even in the privacy of the polling booth.