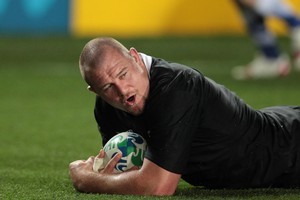 Is this what it feels like to stand on the summit, breathing the pure sweet oxygen of achievement?
And thanking your lucky stars for a narrow escape.
The final push to the summit was supposed to be easy - much easier than the ridge they had to climb last week.
Last Sunday the tension was so tough you could taste it. Yesterday we were nervous because we were not nervous.
Never have so many walked the fan trail, never have so many worn the black.
Up Queen St, past the student art in Myers Park and on to the stadium, exuberance was in the air.
Never was the anthem heard with such crowd power.
The haka was a chorus of tens of thousands - if not hundreds of thousands - of people.
But from the kick-off it was clear this wasn't a walk in the park.
The final push to the summit ran into a blizzard of white garbed Frenchmen.
They tackled furiously, ran hard and knocked the black backline off its rhythm.
Before the game, the French flanker Julien Bonnaire - credited with picking the team up after the loss to Tonga - stood alone in the middle and surveyed all directions of the field, looking like Napoleon.
It was a brave fight his team put up.
They have left us too dazed to savour the summit yet.
Men like Hillary, Blake, Henry and McCaw do not say much at times like this, but some words of Sir Peter Blake come to mind: "If it wasn't hard it wouldn't be worth doing."
Whew.