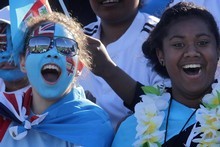 Well, they got Gaddafi this week. If he had the millions he was said to have he didn't get round to using them for any miraculous escape.
Where would he go to hide anyway, looking as barmy as he did? There are reports of his being manhandled and jostled before someone put a bullet in his head. No niceties like a trial in the Hague. Fight by the sword, die by the sword.
And always remember Lockerbie, the horror, the magnitude of that crime. Gaddafi was insane, megalomaniacally insane. 25,000 people had to die in order to persuade him that his time was up.
Mind you, I wondered about sanity here this week when I saw the fuss being made about Bill English's placing an ad for himself in his local school newspaper. It was, apparently, an outrageous violation of the Electoral Act.
If it was, I couldn't see it. It's not as if the kids' parents down in Dipton would be voting for anyone else anyway.
And I know.
In the Bay of Plenty an ecological disaster hangs in the balance, and we all hope for the best there but forgive me, there's only one story as huge in our hearts this weekend and that is what's going to happen at Eden Park tomorrow night.
At last, New Zealand in another World Cup final.
Do we have it in the bag, more or less? Or might the French get up and perform a miracle. As a French newspaper said after the All Blacks ran Australia off the Park, "We are allowed to hope."
I don't know how you can dare hope for anything when you have a national coach of a team calling his charges spoilt and undisciplined. It seems very unusual man management. Nevertheless, Cardiff haunts us still.
Oh, by the way, an Englishman, an Australian and a South African are in a bar. Oh sorry, a departure lounge ...
My God, I've loved the World Cup. What great rugby, how infinitely fascinating have been so many of the games. And hasn't it been great to have a party and be kind of the centre of the world for a little while?
Half the names of the world will be here this weekend. The only reason Nicolas Sarkozy won't be here is because Carla's just had a baby girl. I love it. Even the President of France has husbandly duties to keep him away.
I loved the way the provinces were allowed to get involved and became involved. I loved the way we all adopted the various countries. I loved the weather, which on the whole was exceedingly well behaved. I loved the New Zealand light, the goldenness of it in the late afternoons of the early games and I wondered if across the world they saw the beauty of our country. Heaven knows the World Cup tournament has given the country major profile round the rugby-playing world.
I loved watching the minnows and marvelling at how bravely and capably they took it to the big boys. And they were all great for about 55 minutes until the big fellows decided to play their own games and to cease to be discombobulated by odd players from the foreign countries who came down from spaceships. I'm pleased there's going to be a discussion about the place and position of Pacific Island rugby.
I'll always remember Namibia v Fiji at Rotorua on the first weekend of the tournament, or the Scotland v Romania game.
Or the brilliance of the Australian backs against Italy at Albany, the Australian backs were simply brilliant and put such fear into me I had to call Marty Devlin to ask if we should be afraid. He confirmed I should be. And Tonga beat France!
And I would never claim any expertise but I thought the semifinal between New Zealand and Australia last weekend was one of the finest games of rugby I've ever seen, lost as it was in the first 10 seconds of play when Quade Cooper's kick went out and the All Blacks were on to them and never took their feet off their throats.
Oh, and I've loved the national anthems. I have a friend who was in a couple of the choirs at Eden Park.
She used to ring about an hour before the game and say, "Now, if you're watching, I'll be standing just to the right of centre."
When our friends came over to watch the game I was able to say, "Look, just to the right of centre, that's her. That's our friend." I know, small things for small minds. But it was just so exciting.
I still wish the waterfront had been the chosen option, because the pictures would have been amazing. Having said that, Eden Park looked stunning, as grand as any ground in the world.
I would think that no matter where you were on the nights of the big games the television presentation made you feel as if you were there. Remember that scream coming through our sets when it became inevitable that Ireland had beaten Australia?
Speaking of television, I offer only praise to all my broadcasting colleagues, both radio and television. Coverage has been so professional. By that I mean they made it all look easy. Their sound work, their camera work, their commentaries all made the the occasional grand. They are up there with the best in the world.
And at the front end of things, I must single out my two former colleagues, Tony Johnson over at Sky and Andrew Saville at TVNZ. They both have an acerbic wit they can call upon when needed, they both have great microphone presences and they both do their homework.
Win or lose, I'm going to miss the cup so much after tomorrow night. It's like dear friends you hadn't seen for a long time have come to stay for a few weeks and this weekend they're going. It feels sad.
What wonderful drama it has been. What a wonderful buzz.
And the Englishman, the Australian and the South African in the departure lounge. Not bad.