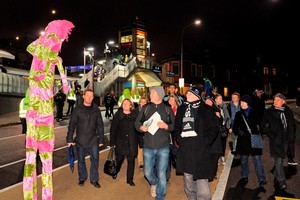 It started like any other day. I wasn't aware there was anything different about it - apart from plenty of barking dogs, but there are always barking dogs on the streets where I live.
Outside, there was no sound of traffic. I ventured out and saw ... nothing. Clearly something odd had been going on; houses abandoned, deserted streets, and empty V cans blowing around like tumbleweeds.
I had woken up late before, but never to this.
A car from a side street appeared, its attached black flags fluttering. "Watch out, get off the street!" the wide-eyed driver yelled at me as he passed.
Then I saw them: a large group of people stomping down the road, pale and fixated. They shuffled towards me vacantly, menacingly, and I realised they were no longer of this world - they were the undead. Wearing an array of rugby jerseys, the zombie fans trod along the fan trail on their way to Eden Park.
It's been going for a while now. A strange disease has taken over and pulled our neighbours, friends and loved ones from us. Losing their brains to the Rugby World Cup syndrome, nothing makes sense any more. Once-sane Kiwis now sport silly little flags on their vans and cars.
Elections, environmental and budget disasters can compete for attention, but our collective brains have been eaten and people can only talk about one thing: Richie McCaw's foot.
No medical cure has yet been found. Like the Christchurch earthquakes, we need to just ride it out until it stops. And therein lies the challenge.
As someone who has so far been immune to the affliction, I have gathered with others in secure areas to discuss what we can do to keep ourselves safe.
But one by one we have been struck down by the Cup in horrible ways. One of my friend's wives started watching the first few minutes of Wales vs Ireland, and now all they do is jabber about young Sam and loose balls. I assume they're talking about rugby, not some swingers' club they've joined.
I'm the last person to comment on rugby, having only ever watched two games - a televised Lions' game in the 1970s and a club game in Sri Lanka - but I have learned how to talk rugby, for my own safety.
In the 1980s and 90s I discovered I would get nods by talking vaguely about the Canterbury team's character as "hardworking and determined". For Wellington I'd say, "moments of brilliance followed by perplexing ineptitude". Auckland had a "brilliant season followed by a patchy one", and Waikato had "lots of heart but lack of skills and follow-through".
If you confine yourself to talking about the All Blacks, the following phrases should keep you safe: "McCaw is a legend"; "Good game but let's cut the penalty count"; and "We're lifting with every match".
When talking about the other teams, try: "I'm not convinced, what do you think?" People will cover the rest of the conversation for you.
I'm told it's the play-offs this weekend. This means it's time to keep our heads down.
We're all safe unless we lose - then it will really be time to head for the hills.