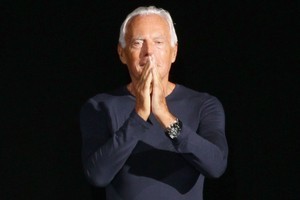 Billionaire fashion designer Giorgio Armani will not be coming to New Zealand for the Rugby World Cup, despite a Sunday newspaper's claim.
A spokesperson for the 77-year-old, with a personal fortune estimated at $7 billion, said today: "Mr Armani will not be coming to New Zealand for the World Cup."
A tenuous link had been made between the snow-haired Italian designer and the RWC.
Fairfax suggested Armani would be a presence at the World Cup because he was responsible for designing the uniforms four years ago for another sports code - Russell Crowe's rugby league team The South Sydney Rabbitohs. It was a stretch.
Despite the lack of European fashion royalty to grace our shores, that other European royal - Zara Phillips - is still making headlines since she arrived a week ago.
She has put the scandal of the mystery blonde behind her and forgiven her husband, England rugby team captain Mike Tindall.
However, Britain's Sun newspaper today published more damaging pictures of that infamous night in the Queenstown bar - this time with the wayward skipper wearing a Viking helmet while chatting to the mystery blonde.
In another shot, helmet-wearing Tindall stands beside a dwarf and a banner saying "down with panties". And another picture shows him laughing with the dwarf during the Mad Midget Weekender event before picking him up and holding him upside down.
It will only add to the humiliation the royal family has endured. What else is likely to come out of the woodwork?
Meanwhile, former Hanover directors Eric Watson and Mark Hotchin, who have kept out of the public eye since facing public jeers for living large while investors in their finance company lost money, are expected to attend Sunday's NRL Grand Final in Sydney to support their Warriors team against the Manly Sea Eagles.
An insider tells me both men are expected to watch the game from a corporate box at ANZ Stadium. "But there will be no fuss. They will want to support their boys but stay under the radar," a source said.
Cullen Investments, founded by Watson, who moved to London in 2002, is a majority shareholder in the Warriors and the company's website describes the team as: "New Zealand's largest and highest profile privately owned sporting franchise." Hotchin, who now calls Queensland home, gained a stake in Watson's rugby league team.
It comes as no surprise that Hotchin will want to keep his head down and away from media scrutiny. In a hearing in the Auckland High Court yesterday Justice Helen Winkelmann banned media for the second time from reporting details of Hotchin's attempts to get an order freezing his assets lifted since the Financial Markets Authority froze them in December.
Hotchin was not present in court and Justice Winkelmann has reserved her decision.
Hotchin may have stayed away from Auckland, but his anticipated presence at the game in Sydney on Sunday will no doubt be welcome news to his players, but probably not to those Hanover investors who lost their life savings.