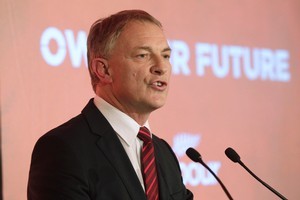 A politics-free period may be useful for Phil Goff as he tries to put some distance between himself and the rekindling of speculation a few weeks ago regarding the Labour leadership. The white flag was hoisted shortly after lunchtime on Thursday. By then, the normally heavy flow of press releases and speech notes coming out of the Beehive and elsewhere in the parliamentary complex had dwindled to a trickle.
Cabinet ministers, MPs and their staff had surrendered. In short, political discourse had become the first casualty of the Rugby World Cup.
The smothering of politics by the blanket media coverage given to anything cup-related is making for a truly weird, stop-start lead-in to the November election.
The dying days of any Parliament - this one has just nine to go - can be quite surreal as it is. The House is really just going through the motions.
The fake aggression is even more forced than normal. It is phoney war. The minds of those intending to return have shifted to the contest that really matters and which is now a mere 10 weeks away.
Those MPs now face twiddling their thumbs for six of those weeks. There is no point in politicians trying to attract media attention during that period. There is no space in the papers or in the news bulletins. The popular wisdom is that no one will be listening anyway. That is not true.
Many people don't give a toss about the cup. But then you don't spit into a hurricane.
This is all good news for incumbents - and bad news for challengers. There will be photo opportunities galore for John Key. Unless something goes very wrong - something more serious than the All Blacks missing out - he and National should be able to bask in a wave of nationalistic pride at a job well done. Those positive vibes should persist well into the election campaign which will get under way shortly after the cup ends. The upbeat mood - which will be even more gung-ho if the All Blacks take the cup - will create an atmosphere in which it will be difficult to be critical without sounding carping.
All this might well deepen Labour's gloom. But the man who stands to lose the most from the cup's scheduling may be quietly relieved.
A politics-free period may be useful for Phil Goff as he tries to put some distance between himself and the rekindling of speculation a few weeks ago regarding the Labour leadership.
The priority for Goff is now a very simple one. He must "win" the campaign - and, just as crucially, be seen to have won it.
Winning the campaign may not win Goff the election, but it may be enough to produce a respectable result for Labour.
Such a result would ideally leave the party just one election away from returning to the Government benches, rather than another two terms in Opposition which might be required for recovery if Labour's vote collapses towards the 20 to 25 per cent mark.
These days, election campaigns are dominated by two things - opinion polls and the televised leaders' debates. Winning the campaign requires Goff to put in top performances in the three scheduled debates, particularly the first one.
This will be the first time Goff and Key have gone head-to-head at any length outside Parliament.
Goff may pleasantly surprise some voters. It is not often that Key gets the better of him in the House. And vice versa.
Being Leader of the Opposition is a thankless task. The debates will put Goff on a more equal footing with Key.
National is worried that the media will have low expectations of Goff despite his being a former senior Cabinet minister with truckloads of experience and will mark up his performances accordingly.
To emerge the victor, however, requires that Goff does not mirror the public's image of him as a robotic, one-dimensional, lecturing know-it-all whose time has long gone.
If Goff kicks off the campaign with all those negatives still very much to the fore, then his battle with Key will be over before the fat lady has even arrived at the opera house.
What is required is a rewired Goff - for starters one that can moderate his response instead of coming across as some kind of Darth Vader-like repository of darkness and negativity.
Not every mistake made by the Government is a disaster. Not everything the Government has done is bad.
Goff needs to pick his fights. He needs to admit that National has got it right on some things - then convince people why Labour would do the job better.
Goff needs to stop living in the past. On state asset sales, welfare reform, the restructuring of the public service and national standards, Labour is trying to summon the ghosts of the free market reforms of the 1980s and 1990s to frighten voters. Most voters under the age of 40 have no memory of this.
The electorate has moved on. Overseas, other social democratic parties have also shifted accordingly. Labour is stuck in a rut.
If Labour was really smart, the party would have outflanked Key by not only adopting national standards, but arguing for league tables showing how individual primary schools are performing compared with others in their decile. That is what parents want. That is what Australia's Labor Party delivered. But Labour here is hostage to the teacher unions.
Goff needs to stop lashing the well-off for not paying their fair share of tax in tough times. The politics of envy are unlikely to impress middle-income voters who aspire to becoming better off as they get older. They do not want to be made to feel guilty about it.
In short, Labour needs a very different Goff to emerge from the cup-created hiatus - but one not so different as to no longer be credible.
Getting the mix right will be difficult. But getting it right could change the whole complexion of the election campaign.