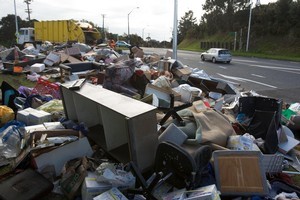 If there is one council service that gladdens the hearts of householders, it is the inorganic rubbish collection. Most are not shy about putting their accumulated detritus on the street for removal. Not only is the service free, it appears to be a benefit to fellow citizens, who prove that one person's junk is another's treasure.
The system leaves the neighbourhood looking messy for a few days, particularly after the treasure-seekers have sifted the debris. But that is a small price to pay. Why would the Auckland Council not continue the collections?
The council has inherited some differences in the way rubbish was collected by the city's previous municipalities and has to adopt single systems. For the weekly and fortnightly collections of organic and recyclable waste it is considering a worthy scheme to charge each household for the volume it produces. At least one member of its environment committee thinks it could charge for the inorganic collection too.
The chairman of the council's environment and sustainability forum, Wayne Walker, likes a user-pays system operated by the former Waitakere City Council under which households wanting to get rid of unwanted items could call a council depot and arrange a collection for a fee.
The depot would be equipped to repair items and put them up for sale on an internet auction site. "There is a good chance the service could break even or make a profit," Mr Walker enthuses.
There is a good chance it would not. There is a good chance it would waste ratepayers' money and do nothing except ruin a system that is working well for households and for those who really can put discarded material to some use.
There is an important difference between an inorganic collection and the regular disposal of household waste. The inorganic collection is not strictly necessary. About a third of households do not take advantage of it.
They probably prefer to offer their unwanted items online, or to keep them in case they find a use for them someday. The inorganic collection is used by those who are neither hoarders nor traders. It is an opportunity to get rid of stuff that would otherwise lie around.
But its disposal is not urgent, which is why it can wait for the council's occasional invitation to put it out. To replace this system with one that invites households to call a depot and book a collection would destroy its purpose. People who do not take the trouble to cart unwanted goods to the tip, or dispose of them online, are unlikely to arrange a council collection. And those who already take the trouble will have no reason to use the council's depot for a fee.
A user-pays inorganic collection would mean junk would simply accumulate in most households. There is always a place it can be stowed and forgotten. That might suit the council's purpose equally well. Mr Walker says the aim of the exercise is to "divert material from the roadside and landfill". Recycling is clearly less important.
The free collection is a much more efficient recycling system than a council depot would be likely to offer. Recycling is not the clean and tidy exchange and restoration of goods that romantics imagine. When attractive appliances still in good working order are put out for collection, they will be wrecked at the gate for their metal and internal wiring by people who know what is valuable.
The Auckland Council should concentrate on what it knows. For collections of food scraps, paper and glass it is considering giving a choice of different-sized bins, each with a barcode that would enable households to be charged on the size and frequency of their collections. That would encourage most people to minimise waste.
But the same principle cannot be applied to the inorganic collection. A fee would cause waste to remain where it is, and destroy an informal recycling system that works.