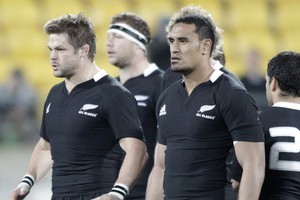 Poor old adidas. No one minds a sponsor getting value for money in this professional day and age but the recent outcry over the new jersey and the coloured boots has seen the All Blacks' main sponsor lose more than a few friends.
Many people have over-reacted to the boots, the new jersey and the English poaching our black. At worst, the adidas manoeuvring over the boots and jersey are no more than an irritant; a multi-national corporation trying to recoup some of its investment.
But, in public relations terms, it's been about as successful as buying a sewerage pond and offering scuba diving lessons. The uncomfortable marriage between professionalism and the traditions of rugby deserves a little more than the story this week that adidas replica All Black jerseys cost about $100 more in New Zealand shops than on overseas websites.
When taxed on this matter, adidas New Zealand boss David Huggett attempted a call to arms to support New Zealand retailers, saying they had great products, great ranges and if we all started buying online, retailers would fall over.
Uh, Dave ... there's just one little thing. The customer. Why would any customer anywhere in the world pay $100 more for the same item? How about dropping into Whitcoulls, for example, and seeing for yourself how many people browse in bookstores, find the book they want, go home and then order it from Book Depository - who can ship it for way less than any bookstore can afford.
There are still, thankfully, many people for whom the act of browsing in a bookstore is its own reward and who like the feel of leaving with a book in hand - but can we really say the same about rugby jerseys?
These are not even NZ-made jerseys. They can be assembled overseas more cheaply. So why would any New Zealand customer support NZ-sold as opposed to NZ-made?
No, I'm afraid this is the biggest load of bollocks since Ferdinand the bull sat on poison ivy. Bigger picture, this little adidas hiccup shows the cynical pricing that can be applied in such circumstances, even accepting that you don't pay GST from websites. About 85,000 people are visiting here for the RWC. If even a quarter were to buy an adidas jersey at the extra $100, that's an extra $2 million over the price that can be gained overseas. Thank you very much. Ka-ching.
Huggett's response was to deliver a veiled threat that adidas would introduce boundary agreements to stop international "undercutting". You can see how the man in the street shakes his head when he hears this stuff. Clipping the ticket is an international sport all its own; an art form. We don't have it on our own, of course. Walk into any tourism-dominated café in Paris and feel the pain of poor service, poor food and prices on steroids.
On a broader stage, we are hearing all about it regarding the price of milk and the vexed issue of removing GST on healthy food - so those families suffering financially can better afford to feed their kin without resorting to problem-causing fast foods and such.
I had the misfortune to hear Mike Hosking's take on this on radio, where he sounded like a National Party stooge as he called the inquiry into milk prices a waste of time and inferred that market forces dictated the price and that anyone who couldn't see that was a congenital idiot; confirming that, not for the first time, those on large salaries often have difficulty understanding those less fortunate than themselves.
Of course milk prices can be regulated. Just as essential food items can be exempted from GST, even if it is a vast bother. There are plenty of countries who exempt items from their sales tax regime. All that is missing here is the will to do it.
Which is also evident in the adidas situation. There seemed to be no sign from Mr Huggett that retailers here might get the new jerseys at the lower price - and his reward was having the media dredge up sweat-shop allegations of the kind that haunted Nike.
As for the jerseys themselves, well, I think the white half-collar is a little poncey but have no strong feelings one way or the other. It's the same with the coloured boots that adidas have sneaked on to All Black feet, exercising their conjugal rights again and upsetting some traditionalists. If Ma'a Nonu wants to wear orange boots with his dreads, fair play. I couldn't care if he dressed up like Coco Chanel, as long as he does the business.
I'd be hypocritical if I dissed the coloured boots anyway. An age back, playing club rugby in Auckland, I wore a new pair of boots with a bright blue sole. For those days, this was a stirring fashion statement and I was rewarded by being stirred from the sideline.
"Give it to The Blue Flash", yelled one wag from beyond the paint as my team swept downfield. As I claimed the pass sent to me, I promptly slipped and fell in the biggest puddle on the paddock - causing widespread laughter and more anti-boot comments and queries about my sexuality.
As for the English poaching our black jerseys, I mean, c'mon ... The All Blacks' away colours are white. Same colour as England's home strip. We are kidding ourselves if we get offended about that. Quite apart from anything else, the English may wear black and may fancy themselves but if their rugby team at this year's RWC look like the All Blacks, my bum is a pineapple.
No, it's time to put all these niggly, negative bits in the bin and concentrate on having a good World Cup. With only weeks to go, New Zealanders are now realising that this carnival of rugby will be a must-see; last-time watershed. It will provide thousands of people with an "I was there when ..." conversation piece and the water-cooler anticipation is hotting up nicely.
This is anecdotal, of course, and runs counter to a nasty little survey published this week which said only 37 per cent of Kiwis were looking forward to the RWC, 35 per cent weren't and the rest had no feelings one way or the other.
Nonsense, crap, Ferdinand the bull and Mike Hosking. One of the great laws of research is that those commissioning it should never believe it implicitly. Some of those being researched have a terrible habit of telling inquirers what they think they want to hear or mask their real feelings by adopting a stance which may or may not be what they really think.
Although if they did a survey asking New Zealanders if they thought adidas was a price-gouging pain in the butt, and it came out that at least two-thirds of us thought so ... I'd believe that.