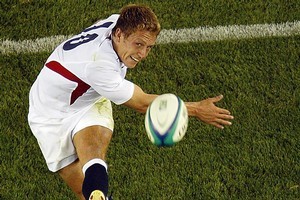 England believe that a rejuvenated Jonny Wilkinson could yet start another Rugby World Cup as first choice first five-eighths.
Wilkinson is said to have turned up at England's pre-World Cup training camp looking super fit and in perfect shape mentally.
But the veteran No 10 who will start his 12th season of test match rugby has also shown he is a player who never stops learning. Wilkinson was 32 in May and has now won 85 caps. But his willingness never to accept the status quo but challenge any situation continues to elicit the respect and admiration of the England coaches.
Most impressive is his ability to adapt to the demands of the team and the modern game.
England were disappointed with Toby Flood, the incumbent No 10, in their final game of the Six Nations Championship, against Ireland in Dublin in March.
Flood had originally won the selection battle with Wilkinson in the starting line-up because he was prepared to stand up flat in attack, confronting the traffic and asking questions of the defence. Wilkinson had not done that in his previous games and accordingly paid the price.
Yet when the Toulon player turned up for England's pre-World Cup camp, he quickly showed that he could adapt.
He is said to have stood flat in attack and demonstrated all kinds of skills in releasing support runners either side of him.
Before that, a lot of England judges felt that Wilkinson had become too one dimensional for the modern day game where greater flexibility is required.
England's dilemma in having to choose between Flood and Wilkinson has been that 50 per cent of each man's game would add up to the perfect player.
Wilkinson has been a master at putting the ball in behind defences, tugging the fullback this way and that across the field while using the touchline deep in the opposition 22 to launch pressure through his tactical kicking.
His kicking is renowned the world over, whether it be to goal, into touch or out of the hand in a variety of ways such as the grubber or chip kick.
By contrast, Flood, who started out in his rugby life as a centre, has always been happier keeping the ball in hand, trying to link with and release those around him with passes out of the tackle or into space by conventional means.