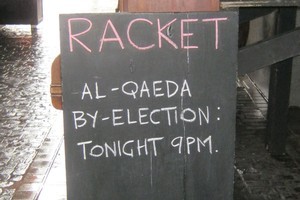 Snapped outside Racket Bar, Roukai Lane, Britomart.
Cafe staff on wind alert
In what sounds more like a Monty Python sketch, cafe owners in Edinburgh who offer al fresco tables have to carry out a full "wind assessment" every morning. The cafes must display information showing at what wind speed staff would have to bring in umbrellas, gazebos and canopies. To do this, they need either to buy an anemometer or ask staff to judge wind speed using a chart drawn up by council officials. The chart says a "strong breeze", of 25-31mph (40-49km/h), can be indicated by "larger tree branches moving", while a gale, at 39-46mph, would be indicated by "whole trees in motion and resistance felt when walking against the wind". A council spokesman said: "This is about raising awareness of the need to plan ahead, ensuring that any temporary structure be properly constructed and suitable measures taken to mitigate against the dangers of high winds."
Versions of happiness
The secret of happiness is looking back on the past through rose-tinted glasses, scientists believe.
But according to The Telegraph.co.uk, the following great minds have had their own ideas on contentment:
* "Man is fond of counting his troubles, but he does not count his joys. If he counted them up as he ought to, he would see that every lot has enough happiness provided for it." (Fyodor Dostoevsky, Russian writer.)
* "Happiness is like a butterfly which, when pursued, is always beyond our grasp, but, if you will sit down quietly, may alight upon you." (Nathaniel Hawthorne, American novelist.)
* "Happiness is a matter of one's most ordinary and everyday mode of consciousness being busy and lively and unconcerned with self." (Iris Murdoch, Irish-born British author and philosopher.)
* "The fact is always obvious much too late, but the most singular difference between happiness and joy is that happiness is a solid and joy a liquid." (J.D. Salinger, American author.)
Out of tune
In Sandown, on the Isle of Wight, entertainer Simon Ledger, 34, was arrested after two visitors of Chinese descent, walking past a nightclub, heard him singing the disco song Kung Fu Fighting and complained that they felt subjected to racial abuse. Police later decided not to charge him. (Source: News of the Weird.)
Timekeeping - it's important
No Nonsense Glen tells it like it is: "To those in Sideswipe complaining about the testing for jobs: I have done quite a number of those tests over the years and every time I have been told what the time limit for the test is. If you can't prioritise your work and work to a schedule, like is required in the real world, it is not surprising that you were not offered the job. "