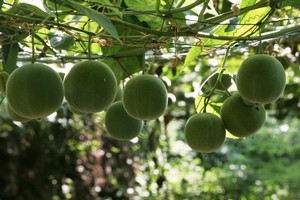 BioVittoria uses luo han fruit for its calorie-free sweetener. Photo / Supplied
The "tyranny of distance" has just abated hugely for BioVittoria, the Hamilton agri-tech company which has signed a deal with world food supply giant Tate & Lyle to distribute its unique natural, calorie-free sweetener.
Distance is a problem for most New Zealand start-up technology companies as they try to deal with how to take their product to market.
With our small population, the only option for them is to develop export markets from the very start. Not only is that a difficult proposition when you're 12 or 20 hours away from your customer base, but it's also very expensive to overcome, especially for cashflow negative start-ups.
Tate & Lyle's investment in BioVittoria will alleviate the distance-to-market problem.
In return for selling a portion of the company to an overseas giant, BioVittoria gets access to Tate & Lyle's supply chain and distribution channels.
This will take its product to the heart of a huge customer base - the major American and European food and beverage companies.
In a pure sense, we might prefer that BioVittoria remain wholly New Zealand-owned. But we are an outward-looking country and we must develop mutually beneficial partnerships which enable New Zealand companies to overcome the peculiar challenges we face, situated so far from major developed markets.
This deal is a microcosm of how New Zealand Inc should be operating. We have a New Zealand company which raises domestic capital to commercialise high quality New Zealand innovation and science. It then uses New Zealand's excellent business relationship with China to develop and produce a unique product. It partners with a major multi-national to develop its world-wide potential, having also received assistance from NZ Trade and Enterprise in terms of building United States market presence and connections.
Thanks to venture capital backing from Endeavour Capital (which also gave useful advisory support, particularly in doing business in China), BioVittoria secured the investment required to develop to its current level. It has now found the support to move into world markets, partnering with an industry giant, while remaining in New Zealand.
If we are to retain these sorts of companies in New Zealand and enjoy the commercial and economic benefits - as the BioVittoria-Tate & Lyle deal allows - then New Zealand Inc needs more investors willing to back innovative enterprises.
The absence of new venture capital funds over the past few years (hopefully to be rectified this year) is largely the result of New Zealand institutional investors' aversion to the risk and return nature of venture capital investing. While we hope that reluctance will diminish, until it does so, we must be open to other sources of capital - overseas sources - to help fund new technology ventures. Otherwise the next wave of technology companies won't be able to develop here, as BioVittoria has, but will need to go overseas much earlier.
There is international capital interested in New Zealand companies, largely thanks to the quality of our business environment. Our regulatory regime compares very well. Our workforce is well-educated and skilled.
We are entrepreneurial and, particularly in areas of comparative natural advantage such as agri-tech, we develop world-leading research and technology. The criterion in which we are lacking, however, is the depth and capacity of our capital markets.
We fare well in terms of angel capital - the $500,000 to $2 million needed to develop technology companies from an idea - completing a prototype product or service, taking it from the research lab to commercial proposition, and then to get the early stage business to market.
As these businesses develop and expand, and look to export their products and services overseas, they enter the "valley of death" when the required capital ($2 million to $10 million) for their growth is most difficult to obtain, especially given the shortage of venture capital funds.
Throughout this period of growth, companies often remain cash-flow negative and, therefore, require significant support to achieve the ultimate goal of steady profitability.
Venture capital is specifically designed to provide this type of capital.
BioVittoria survived the "valley of death". Its venture capital backers have been able to take it to this stage, and now Tate & Lyle's involvement will help it to move to the next stage of development.
With so many young technology companies now reaching the expansion stage where they need to develop overseas markets, new sources of venture capital and more innovative international partnerships will be needed if we are to see the fruits of years of effort.
Franceska Banga is chief executive of the NZ Venture Investment Fund.