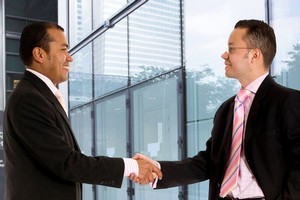 Negotiation - it's something you do every day, from dealing with the family or choosing a restaurant with your partner, to dealing with prospective clients and employers.
I'd like to share a few clever negotiating/sales tips you might like to add to your repertoire.
Non-disclosed information
John Chernin, of US firm Web Industries, sent me this great tip on getting details which the other party may be reluctant to provide. If you ask directly - "how large are your revenues?" - the answer will probably be: "We can't share that".
However, if you pose a question - "so, your revenues must be about $35 million?" - you'll get an answer, because the other party doesn't want to feel guilty about misleading or not correcting you. It may be a specific number, a hint or just a knowing smile, but you'll get an answer. Ironically, the further off your guess is, the more likely you are to get a more specific response.
Face to face is best
You can't see a twitch over the phone, or anger setting in if your negotiations are by email. Because non-verbal cues are so communication-rich, they can help tremendously in your negotiations. Always try to do your negotiating in person.
Be detail oriented
Sean Kelly, of Australia's Corporate Partners, suggests as you work through each point, always, always, always, verbally confirm the point first, then write down the exact details as you work through them. Then, at the conclusion, review what has been agreed (or not agreed); outline what is up for further discussion; and confirm that you will follow up on what has been agreed, in writing.
If formal documentation is to be signed, send a short email outlining the agreement before you produce the final paperwork.
Know your opponent
Sean Kelly also suggests that knowing the person you're going to deal with gives you an advantage. Just as the All Blacks prepare by watching videos of their opponents, you can research the individuals you will be negotiating with.
Are you meeting them for the first time? What are their soft spots? Do they like sailing or cricket and would it be appropriate to open with a general discussion around such subjects? Are they aggressive and forceful or assertive and influential, or will they drive their discussion around facts? Will they have more than one person at the meeting(s) and will they do the "good guy and factual, hard-nosed guy" routine? In addition to asking people, you'll get plenty of information about them from a LinkedIn profile if they have one.
Be fair
If you clearly have the upper hand, and the other party is vulnerable, don't be ruthless. This is not being weak - it demonstrates real leadership and is ethical. Besides, you may want to deal with the person again in the future.
Ask for it
A reminder of what we all hear, but often forget. If you don't ask for the sale you won't get it. This may sound simplistic, but many salespeople forget this basic rule. It's the most important sales tool you possess and also the most effective.
Of course you need to adapt and find the most effective way and best timing to "ask for it" for your particular industry and product - but you have to ask.
Build in tenacity
You are not going to close every deal on the spot. Implementing a good system to follow up will help you go from good to spectacular. During the boom times we often let follow-up slip. You can't really afford that in this economy. One of the simplest ways is to enter a reminder in your email or customer relationship management programme. Then you can forget about it until it pops up. This simple system can help you follow a prospect for years until you land the sale (or give up).
Negotiate from their perspective
Turn as many as possible of your "I"s (meaning you personally and your company) into "you"s. For example, replace "I think" with "Do you think" or "Wouldn't you agree", and "I want" with "Wouldn't you want?" This brings the person you're negotiating with more personally into the discussion.
And finally, silence
Silence is golden. Think of how you hate awkward silences. This state often takes over when both parties have spoken, and a concession is due. Learn to wait out the silence to your advantage.
Debbie Mayo-Smith Facebook Business Page
Debbie Mayo-Smith is a bestselling author and international speaker.