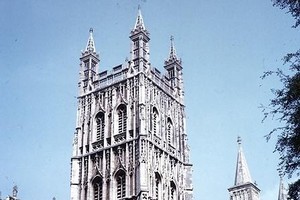 Gloucester Cathedral, one of those vast, imposing great churches that seem to form the western spine of religious England - Gloucester, Bristol, Bath, Tewkesbury, Worcester - has known some times in its long history.
An abbey was founded on the site of the present church as early as 679 AD But the foundations for the building we see today, resplendent in the winter sun and snow when I glimpsed it last week, were laid by Abbot Serlo from 1072 to 1104.
Henry III was crowned King of England there in 1216, and in 1327, King Edward II was buried within its vast walls.
In 1555, amid the religious wars that broke out across England, Bishop Hooper was burned at the stake outside Gloucester Cathedral on the orders of the Catholic Queen, Mary. Gloucester is a hugely important religious centre and, as its history suggests, one of the great cathedrals of England.
But if it thought it had a story or two to tell about the past, then it had reckoned without the lunacy of the present.
Christmas 2010 will go ahead in the cathedral with a traditional story of a crib and the baby Jesus.
But the tale on the minds of many church goers to the cathedral this coming Christmas morning will be of the 64-year-old flower arranger who was forced to resign recently as chairwoman of the Cathedral Flower Guild.
Shame and scandal between the cathedral pews? Was naughty Annabel Hayter caught "in flagrante" somewhere behind the North nave, a disrobed, red-faced choirboy somewhere nearby?
Not at all - such would be a scurrilous suggestion.
Alas, Hayter was caught in the web of the "Elf and Safety" czars.
That, it would appear, is a far greater "crime" in modern day Britain.
Hayter had helped arrange the flowers at Gloucester Cathedral for more than 15 years and volunteered as a flower arranger for, in total, more than 40 years. It's a popular pursuit; my wife did it for some years in Bath's great Abbey when we lived in that city.
The ladies give their time for free, the church looks resplendent each morning and the cost, in terms of the flowers, is fairly minimal. It is a tradition that dates back who knows how long in the pages of history.
Alas, the elf and safety czars peered into this cosy arrangement and snorted "We're not having this".
For I understand that in some Anglican churches, you may find choir boys and where you find choir boys, in the minds of these crazed czars, you find rampant paedophilia. Now in the Catholic Church, especially in Ireland, this is true; it has been rampant.
But there is no suggestion that it has been equally rife in the Church of England.
At Gloucester, with the elf and safety czars sniffing out potential foul deeds like French dogs hunting truffles, the elderly ladies of the flower guild were suddenly told they had to submit to proper vetting to ascertain whether they had criminal records. Whether the criminal records might be for pinching some of the flower money or a choirboy's bottom was not made clear.
No matter, ladies who wished to arrange the flowers had to be vetted. The reason was, whilst undertaking that work, in the same building, they might have to use the toilet. And, horror of horrors, that was the only toilet in the cathedral and thus, might also be used by a choirboy from time to time. Annabel Hayter epitomises the England and English of old.
She rejected this demand as ludicrous.
And she would have a good few million lining up to support her, I suspect, should hers become a cause celebre. or, you see, deep in the bones of an English man or woman is a penchant for freedom. Perhaps it comes as standard with a people who are, let us remember, an island race. Being pushed around, threatened or told what to do does not sit comfortably in the minds of traditional English folk. Politely, (well, they used to do it that way and doubtless still do in the case of good ladies like Annabel Hayter) they tell those making the demands to push off. Indeed, five of Annabel's fellow flower ladies resigned in protest at her treatment.
Alas, such talk cannot be countenanced in the "new", elf and safety-conscious Britain, where you can't be careful enough about the dangers of a 64-year-old woman dragging an innocent choirboy into the toilet of Gloucester Cathedral and having her wicked way with him as the morning sermon is being preached.
So Hayter was fired and no longer arranges the flowers at Gloucester Cathedral, the choirboys will be protected and another little part of old Britain dies.
And those who knew it as it once was weep a silent tear at such idiocy.
- Peter Bills is a writer for Independent News and Media