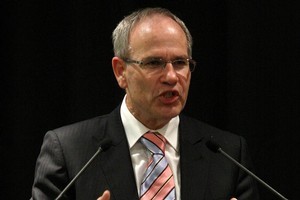 In the end, it's hard to know whether Len Brown won in a canter or John Banks lost in a landslide.
Either way, the winds of change were tugging at the robes of the man who wanted to remain Mayor of Auckland long before the vote-counting started.
In 2007, John Banks won back the mayoral chains from Dick Hubbard, saying he was "transmogrified".
But his newer, softer face showed its old, ugly side in a television debate last week when he said that he didn't want "South Auckland replicated across the rest of Auckland. [Brown's] city is a social disaster."
It was a key moment in the campaign, not because it dictated the outcome - the tide would have long ago started running in Len Brown's favour - but because it pointed up the distinction between the two men: Banks was asking to be mayor of a new city, but somehow felt entitled to dismiss the entire citizenry of its largest constituent authority with a phrase that oozed high-handedness and contempt.
The former National Party MP and Cabinet Minister was playing old-style politics but in the era of the Supercity, old-style politics' time is past.
The voters of Auckland's leafy suburbs could usually be relied on to turn out in sufficient numbers to ensure that a right-of-centre mayoral candidate and the National Party equivalent at local-body level, the Citizens and Ratepayers Association, kept their hands on the levers of power.
But a campaign for the Supercity mayoralty in 2010 was a new ball game and Banks never worked out that the rules had changed.
He needed to appeal to voters, a large swathe of whom knew next to nothing about him - and didn't much like what they learned during the campaign. By a margin of almost three to two, the voters said: "No, thanks".
Brown's perceived weakness was always going to be that his constituency traditionally disenfranchises itself with low voter turnout.
But his supporters, spearheaded by a formidably well-organised local Labour Party machine, neutralised that threat by a campaign to get votes in the mail.
The result, which looks like being based on a record turnout in local body polls normally dogged by voter inertia, is something of a triumph for democracy: Brown can reasonably lay claim to having won what he campaigned for - to be the mayor for "all of Auckland".
Within minutes of winning office, Brown proclaimed his determination to make Auckland the world's most livable city. It's a noble aim. Compared to cities of similar size, Auckland is blessed with many natural advantages and its diverse population is both energetic and proud.
But formidable challenges lie ahead. The new council will be in charge of the lives and living environments of more than a third of the country's population, in a region that is axiomatically the country's economic powerhouse.
Making it livable means tackling problems of infrastructure - notably in transport - which voters have plainly signalled that they want addressed. At the same time, hard-pressed ratepayers will be looking for economies of scale in the new amalgamation.
They are not willing or able to bankroll grandiose visions but they want visionary leadership, not just management.
The challenge for Brown and his council will be to unite the citizens of the new Auckland under the new singular city banner. If they can accomplish that, they will have earned the trust voters have put in them.