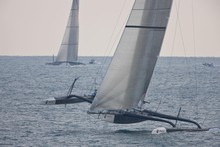 I'm not a great yachting fan.
I didn't understand the hysteria of the America's Cup, where people who didn't know their stern from their starboard went out and bought red socks to contribute to a campaign run by millionaires that employed millionaires.
It seemed a nautical version of a swinging-dick competition and when the battle went off the water and into the courtroom, that was just about it for me.
The only thing I really liked about yachting were the yachts. The sleek, streamlined monohulls were miracles of beauty and technological precision. Except, of course, NZL 82 which almost came to serious grief in 2003.
Now with news that the America's Cup is to turn into a sprint between catamarans in a bid to woo the younger generation, any vestiges of charm the America's Cup had for me is gone.
I'm not the generation they're trying to attract but good luck in trying to get the cynical, media-savvy, and broke Facebook generation propping up any jingoistic America's Cup campaigns.
By Kerre McIvor

Email

Kerre