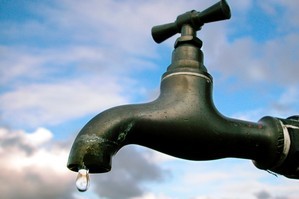 Rodney Hide seemed like he was running for the mayoralty himself on Monday, the way he hijacked Watercare Services' announcement about cheaper water for all in the new Super City and made it his own.
Given the scepticism surrounding the birth of the new city, and his recent nightmares as leader of Act, the Minister of Local Government's desire to wrap himself in someone else's good news was understandable.
But let's not forget that Watercare can offer Aucklanders cheap water only because the legislation establishing the new city both bans the water company from paying any dividend to the Auckland Council and insists prices be kept at "minimum levels".
And that both these requirements were opposed by Mr Hide when the legislation was being drawn up. He wanted the decision to be left, as now, to the politicians. Cabinet papers released late last year reveal Mr Hide argued that the Auckland Council "will be best placed to direct Watercare ...
in how water and wastewater services are to be priced to achieve its broader objectives".
It was, at best, a naive faith in our politicians doing the right thing. Yet anyone who has followed the way Auckland local body politicians have plundered the water accounts over the years in order to fund unrelated pet projects without putting the rates up knows better.
If the Auckland Council politicians we're about to elect are anything like their predecessors - and the lineup of candidates suggests nothing has changed - the risk is they won't be able to resist dipping their sticky fingers into the Watercare honeypot unless there's a strong law to say they can't.
Monday's announcement that retail water prices would drop to $1.30 a cubic metre across the region in July 2011 was greeted with a certain level of scepticism, even disbelief that any utility could drop its charges.
How, it was asked, could a commodity costing $2.33 a cubic metre in Rodney, $1.81 in Auckland City, $1.74 in Waitakere, $1.52 on the North Shore and $1.31 in Manukau City suddenly drop across the region to just $1.30.
For me, it was not a question of how or why, but of what took so bloody long?
Since 1995 there have been at least 11 reports all saying the same thing - that if Auckland integrated the regional bulk water provider Watercare with the retail operations of the various local councils, there would be significant savings for the customer. The only issue the experts differed on was the size of the savings, estimates ranging from 10 and 20 per cent.
The first of the reports was commissioned by the Auckland Regional Services Trust from LEK Consulting in 1995 at the behest of new Watercare chief executive Mark Ford, now head of the Auckland Transition Agency.
In 1998, the National Government followed up with a review which came up with three options, the third of which, a fully integrated operation, got the overwhelming vote of the submitters who compared the three. A steady stream of reports followed. Of the local councils, only Manukau saw the advantages.
The most vociferous opponents have been Auckland City politicians who were not about to surrender a Metrowater pot, which, at their command, miraculously turned water into gold. In the early 2000s, Metrowater built up "retained earnings" of nearly $62 million, which councillors then dipped into for non-water-related projects.
In 2004 and 2005 the local politicians even turned on Watercare, forcing it to hand over $25 million in "surpluses" for non-water activities, despite legislation forbidding Watercare's payment of a dividend.
From July 1 next year, when vertical integration under Watercare finally occurs, Manukau's retail water price drops just one cent, which suggests a retail arm that is both efficient and is not used as a handy slush fund for other city activities. As for the others, the evidence speaks for itself.
Between 1992, when Watercare was set up, and today, the bulk price of water, sold by Watercare to the councils, has gone up 32 per cent, from 43.8c a cubic metre to 58c. Over the same period, Auckland City's price to customers for passing on that same water has rocketed up by 121 per cent, Manukau's retail price has gone up 77 per cent, North Shore's 63 per cent, and Waitakere's 60 per cent.
From July, water prices regionwide will at last drop. It could have happened 15 years ago.