The divine origin of Jesus' birth is a cornerstone of Christian faith and not up for revision, says Garth George.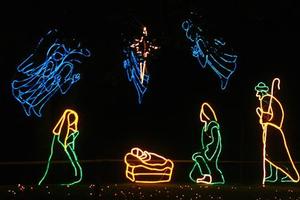 It may be a surprise to many to learn that, in spite of the multiplicity of denominations and dogmas, 95 per cent of what members of the Christian Church believe is held in common.
The trouble is that over the centuries Christians have tended to take the 95 per cent for granted and contend with one another over the 5 per cent, which is little more than minor differences of opinion over interpretations of scripture and matters of denominational structure and practice.
The 95 per cent of what Christians believe in common is contained in both the Apostles' Creed and the Nicene Creed. The first was composed around the 4th century AD; the second - a fuller version - about 300 years later.
A substantial proportion of Christians' common belief concerns three things: the virgin birth of Jesus Christ, son of God and son of man; his resurrection from the dead on the third day after his crucifixion; and the presence and power of the Holy Spirit.
It is the first of these that hundreds of thousands of New Zealanders and billions of Christians throughout the world will celebrate tomorrow, Christmas Day.
And all but a handful will aver without question that, as the Apostles' Creed puts it, "I believe in God, the Father almighty, Creator of Heaven and Earth. I believe in Jesus Christ, His only Son, our Lord. He was conceived by the power of the Holy Spirit and born of the Virgin Mary."
Or, as the Nicene Creed puts it: "For us men and our salvation He [Jesus] came down from heaven: by the power of the Holy Spirit, He was born of the Virgin Mary, and became man."
In our Christmas observances, most of us will remain unconcerned, even amused, about a blasphemous billboard outside a church, of all places, casting doubt on one of our basic beliefs, even though it was commissioned - and later supported - by people who have been ordained by denominations supposedly to be leaders among us.
Some of us will wonder whether these people, who deny one of Christianity's irrevocable and unchangeable articles of faith, still call themselves Christian.
We might wonder, too, that if they are not happy with elementary Christian doctrine, why they don't find another religion that more suits their tastes, or even start a new one - Cardyinanity, perhaps?
Some of us will continue to giggle at one churchman's ramblings about a male God sending his sperm to Earth to fertilise a Jewish virgin. We will wonder how such a man, who presumably was trained for his position, could be so misguided.
For we know that God no more needs to send sperm to Earth to impregnate a virgin than he needs to send a scalpel to carry out a miraculous healing of, for instance, inoperable cancer; that the virgin birth was spiritually, not physically, consummated.
As with miraculous healings - thousands of which have been documented and authenticated over the centuries - all that was required for Mary to get pregnant with the Messiah was a thought in the mind of Almighty God.
We might be intrigued, too, at the suggestion that the billboard was an attempt to get people to think more about what Christmas is all about. Believers already know what it's all about; non-believers couldn't care less.
Some of us will recall scriptural warnings about being misled, such as in St Paul's letter to the Romans in which he counsels: "Now I urge you, brethren, note those who cause divisions and offences, contrary to the doctrine which you learned, and avoid them. For those who are such do not serve our Lord Jesus Christ, but their own appetites, and by smooth words and flattering speech deceive the hearts of the unsuspecting."
And in his letter to the Corinthians: "Let no one deceive himself. If anyone among you seems to be wise in this age, let him become a fool that he may become wise. For the wisdom of this world is foolishness with God. For it is written, 'He catches the wise in their own craftiness'."
So tonight and tomorrow, tens of thousands of us, untroubled by heresy or blasphemy, will gather in our churches to praise God anew for the gift of salvation given to us through the birth, life, death and resurrection of his son, Jesus Christ. And, perhaps, we will sing along with our brothers and sisters that rollicking West Indian Christmas carol, a favourite of mine since I first heard it:
The Virgin Mary had a baby boy,
The Virgin Mary had a baby boy,
The Virgin Mary had a baby boy,
And they say that his name is Jesus.
He come from the glory, He come from the
glorious kingdom.
He come from the glory, He come from the
glorious kingdom.
Oh, yes, believer! Oh, yes, believer!
He come from the glory,
He come from the glorious kingdom.