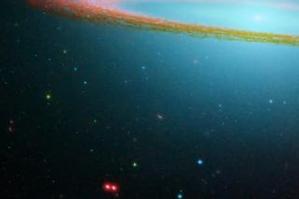 So much has been made of saving the planet yet not one nation has offered the most obvious solution. It's not cutting CO2 levels. It's not about reducing deforestation. In the dire straits we're in, it's vital to consider all options, and this one guarantees both of those outcomes.
First, we need to be clear about what exactly it is we're saving.
According to the scientists, delegates and doomsayers who have descended upon Copenhagen, the world must act now, particularly the developed countries.
Why? Is it to save the polar bears, raining on unsuspecting citizens care of a splattery climate change ad? Is it to save the world's poorest coastal nations from the onslaught of floods? Is it to put an end to the extreme weather that has some hot-headed tabloid papers reporting that the California wild fires were the result of global warming? Why should we care if the ice caps melt? Ice has a habit of melting.
The greedy truth is, we're saving Earth to save human beings. Yay, we made it to the top of the food chain. Then we added artificial new links to that food chain, killed off a bunch of species and millions of our own. Art, music, McDonald's - it all came from the planet's most nihilistic race.
It might be a cynical argument but it's worth asking if we're actually worth saving or if we can muster true sacrifice by eliminating the problem: us. A study by the London School of Economics found contraception is almost five times cheaper as a means of preventing climate change than conventional solutions such as investing in green technology.
Even Sir David Attenborough reckons it's all the damned people who are the problem. The Optimum Population Trust he backs argues that every $12 spent on family planning over the next four decades would reduce global carbon dioxide emissions by more than a tonne.
But contraception is not an easy sell and the minute you slap the population with a Sarah Palin-style call for abstinence, who's going to want to stick around? Once mainstream space tourism launches, and it looks like it will within our life times, it won't be long before we've discovered there are infinite cool places to spend up on a little love pad.
It certainly appears to explain Sir Richard Branson's mind-boggling timing for the launch of his SpaceShipTwo venture. The world's leaders are busy discussing how best to save our choking planet and the businessman trumps Nasa by doing his best to get off it. Branson's venture has begun as a scenic adventure, comparable to a cruise in extremely high seas. It's bound to turn into a bigger commercial enterprise.
Check out all these carbon clouds hovering over the earth's atmosphere. And over here, that's where Tuvalu used to be. Oh and see that gorgeous CO2-free atoll with the all-you-can-eat buffet and genetically enhanced supermodels? Those are the Virgin Islands of Andromeda, just a little something I prepared earlier.
Don't go thinking the $200,000 rocket tickets are limited to the Tiger Woods' and Tom Cruises of the world. It wasn't long ago that saving the planet was left to Superman. If money was no object, or space travel became affordable, most people would probably give it a go, especially since our own planet is so hard to maintain.
According to Nasa, when space tourism was first proposed in the 1960s, a list of interested tourists numbered nearly 93,000.
New Zealand even has its own space-hungry entrepreneurs in the form of Rocket Lab, which launched our first space rocket last month. And it's no surprise this year's biggest film, the 3D juggernaut, Avatar, is about a man who sets off to a peaceful alien's planet to steal its resources.
Surely it's endlessly easier for planet Earth, the thing we're purportedly trying to save, if we did the same. Because even if we did manage to curb our emissions, we'd still be the same old flawed creatures, intent on finding alternative ways to damage our environment. A waste conference was held the week before the big guns descended on Copenhagen last week but did you hear about it?
Waste management accounts for a small percentage of total emissions but it deserves to be a part of the debate as saving the earth needs a holistic view. There's no point saving it if it's filled with junk or if its citizens continue to watch bad reality TV.
Branson's on to something. The answer lies out there in the final frontier.
Now would someone please tell Copenhagen before another world leader starts to cry.