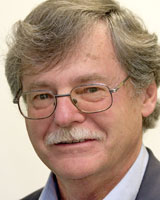 Plans by Auckland City to pad retail water bills to pay for stormwater improvements have already cost veteran City Vision team leader Dr Bruce Hucker the deputy mayor's job and his place on the left-leaning ticket. Now, thanks to a parliamentary select committee report, the issue is back to haunt Mayor Dick Hubbard at a most inconvenient time - the day before voting papers are mailed to every elector in the city.
When the scandal first erupted in May, just about every other politician in the town saw the writing on the wall and ran for cover. To a man - and woman - they wiped their hands of the bureaucracy's bright idea to milk this cash cow for the next 10 years to pay for services other than the drinking water customers were being billed for. The policy was unacceptable, they belatedly agreed, and would be "reviewed" before the 2008 rates were decided.
Only the mayor and his deputy remained loyal to the madcap scheme. In Dr Hucker's case, the day of reckoning was swift. The 21 year-long council fixture was unceremoniously dumped by his team.
But not even Dr Hucker's ugly fate was warning enough for Mr Hubbard. Obdurate to the bitter end, he is now left to take the local government select committee's medicine alone. The policy, say the parliamentarians, is "not acceptable" and they "strongly advise" Auckland City Council to reconsider it.
As I've already pointed out, Mr Hubbard excepted, the committee is preaching to the converted. The two main tickets, City Vision and Citizen and Ratepayers, both now see the errors of their earlier ways. Mr Hubbard's main rival for the mayoralty, former mayor John Banks, is also opposed.
Which leaves poor old Mr Hubbard, caught alone in the headlights like a trapped possum. If ever there was a time to scurry off, it would be now. After all, win or lose the upcoming election, he's never going to get enough votes to resurrect the scheme. But, suicidally, he's decided to come out fighting anyway, muttering darkly about political motivation behind the inquiry, as though that was the point.
In June, I suggested water was shaping up to be a major election issue. I was over-optimistic - it's hard to identify any stand-out issues, either major or minor, of this campaign. But I do suspect the mayor's dogged support for this unacceptable proposal, long after it was buried by more street-smart politicians, will do him no good.
The report is also a timely reminder of the merits of the Royal Commission into Auckland Governance, which is looming somewhere on the horizon.
Water is an obvious commodity overdue for rationalisation, as far as provision and disposal are concerned. If ever a monopoly service cried out for integration into one efficient regional entity, it's water. Today we have seven territorial councils, each with a water company of some sort, plus bulk supplier Watercare. Disposal of wastewater and stormwater is equally fragmented.
Politicians claim they want to cut back on charges to customers, yet refuse to consider the savings the vertical integration of water services across the region would deliver.
In 1995, LEK Consulting reported to the Auckland Regional Services Trust that amalgamating the water and wastewater services of the region would achieve annual operational efficiencies of around $13 million, less new annual costs of around $1 million.
In 2002, Auckland councils took part in the "Auckland Region Water, Wastewater and Stormwater Review". It concluded that just by working more closely together, without any structural changes to their respective water delivery systems, savings of 5 per cent a year were possible. Additional savings of up to 15 per cent were possible if one regional water company was set up to replace Watercare and the individual council retail organisations. It also proposed an individual stormwater utility, funded, perhaps, by road-user charges and an impervious-surface charge for property owners.
The obvious message is that the politicians shouldn't be coming up with devious new ways of taxing us to pay for services, they should be embracing ways of reducing costs.
The answers, as far as water is concerned, are in these reports. We wait in vain for the politicians to dust them down. Where is that royal commission when we need it?
By Brian Rudman

Email

Brian